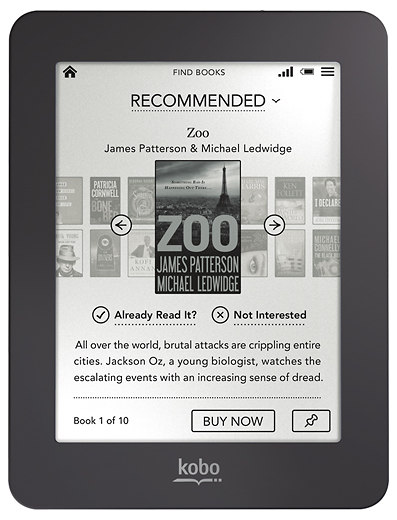 A couple weeks ago I posted an article asking if Kobo will release any new ereaders this fall, and a surprising number of people are hoping for a new Kobo Mini.
This isn't the first time this has come up either. When it comes to new Kobo releases, people have been asking for a new Kobo Mini going back several years, but so far Kobo has ignored those requests.
The Kobo Mini was released back in 2012. It was the first Kobo ereader to feature a 5-inch E Ink screen. Up until then, all Kobo ereaders had 6-inch screens.
Back in the day, the Kobo Mini sold for only $79, and then they dropped the price to $59 after a year. Sometimes it went on sale for $49. Not only was it a bargain, it was a nice mini-sized Kobo that easily fit into a pocket, and it was very lightweight and easy to hold at only 134 grams.
For some reason the Kobo Mini fell out of favor with Kobo. It was only on the market for about a year and a half before it was quietly discontinued, making it one of the shortest-lived Kobo models of all time.
Not only did Kobo discontinue it, it's the only touchscreen model that Kobo has stopped supporting. They stopped issuing firmware updates for it a long time ago, despite older models still getting updates. You can install an update for a different model on the Kobo Mini and that'll work, but Kobo stopped officially updating it ages ago.
Seeing how Kobo has treated the Kobo Mini since it was released, it seems like the most unlikely model to make a reappearance. For some reason the people at Kobo really seemed to dislike this particular model, even though customers really liked it. It was one of my favorite Kobo models so I don't know what gives.
I would really like to see a Kobo Mini 2 hit the market with a frontlight and newer E Ink screen. It would be better than yet another basic 6-inch model like the Kobo Nia. How many 6-inch Kobo models do we need? There's already been at least 10.