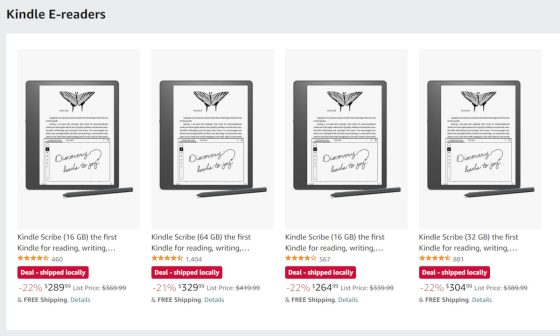 If you're in need of a new Kindle, now is a good time to get a Kindle Scribe or a kids Kindle at a significant discount, and the nice thing about this sale is a Prime membership isn't required, unlike the upcoming sale on October 10th.
A couple weeks ago Amazon put the Kindle Scribe on sale for the second lowest price ever, but the sale was exclusively for Prime members. The funny thing is the sale prices are exactly the same now as they were during the Prime Exclusive sale.
Kindle Scribe Deals List
The Kindle Scribe is $75-$90 off during this sale so it's going for a lot less than usual, and if you have an old Kindle to trade-in you can get an additional 20% off.
Amazon's official Kindle Scribe covers are also on sale. Not by a lot but they're $6-$9 off. The bundle packages are also being discounted.
See my Kindle Scribe review for a list of pros and cons and to watch a video review of it in action.
Kids Kindles Sale
Amazon also has the kids versions of the entry-level Kindle and Kindle Paperwhite on sale, and the prices are almost as low as they were for this past Prime Day.
The kids versions are just regular Kindles in a bundle package that includes a cover, an upgraded warranty, and a one year free subscription to Amazon Kids+ for access to a library of kid-friendly content.
Amazon has some of their Fire Tablets on sale for really cheap as well. They're releasing a new Fire HD 10 in a couple weeks so the previous generation version is now half price.