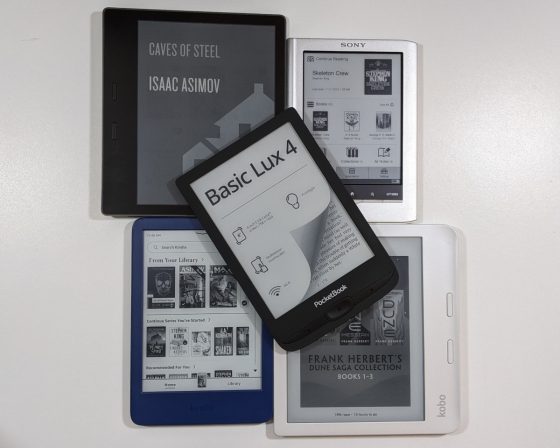 With all the different shapes and sizes that are available across all the various ebook readers from Kobo, PocketBook, Onyx, Amazon, and the other brands, which design is the most comfortable to hold?
I've always favored ereaders with buttons over ereaders without buttons. For me, it's more comfortable to use buttons than having to move my thumb with every single page turn and often having to readjust my grip because of it.
The Kindle Oasis 2/3 design ranks pretty high on the list for me, but there are a couple of things that I don't like about it. The metal looks nice but it gets really cold during winter, and for some reason it gets quite a bit colder than other devices I own with metal casings.
I'm not a fan of the weird bump on the back of the Oasis either. It serves no practical purpose and it doesn't make it any more comfortable to hold than similar designs without the bump like the Kobo Sage and Kobo Libra 2.
Speaking of which, I really like the Kobo Libra 2 but I wouldn't consider it more comfortbale to hold than the Oasis because it's a little on the thick side. The Kobo Sage is nice too but too me it just seems a little too big, probably because I got used to the size of the Oasis and Libra 2, and I just don't care for the way Kobo's asymmetrical ereaders have a weird flared edge that sticks up into your hand.
With smaller symmetrically-shaped ereaders I often find they're more comfortable to hold from the bottom than the side. Bezels keep getting smaller and smaller to the point where it makes some of these devices hard to hold from the sides without accidentally activating the touchscreen, like the 2022 Kindle.
I really like having page buttons below the screen like on PocketBook's ereaders, but they recently changed their designs and relocated the buttons to the very bottom of the front, and I'm not convinced they're as comfortable to use as their older designs where the buttons were a little bit higher up.
I really liked the designs of Sony's old ereaders back in the PRS-650/350/950 days before they switched to plastic casings. Even their short-lived eNotes were exceptionally nice. I still think the Sony DPT-CP1 had one of the nicest designs of any eNote released. It had a 10.3-screen and the device only weighed 234 grams! At 433 grams, the Kindle Scribe is a tank compared to that.
What ereader do you think is the most comfortable to hold?