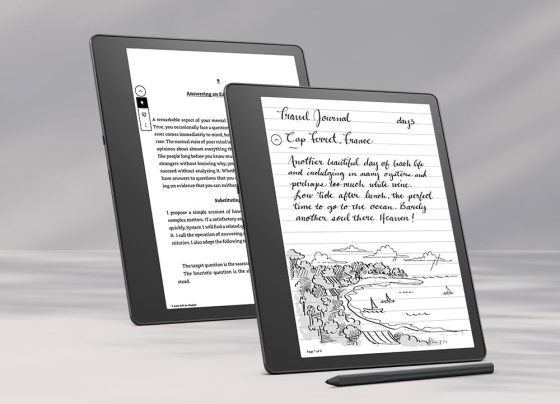 I received an email from an Amazon rep this morning saying that all in-book annotations added to ebooks using the Kindle Scribe, including sticky notes, are now viewable on the Kindle app for iOS.
Amazon added support for viewing Notebooks created on the Kindle Scribe using the iOS app a long time ago, but now they've finally added support for viewing in-book annotations as well.
It'll be nice to be able to view all the handwritten notes and highlights that you've added to your Kindle books from a phone or tablet even when you don't have your Kindle Scribe on hand.
Apparently the Kindle app for Android is getting the note syncing feature too, but not until "early 2024".
I tried testing out this feature but had mixed results. I was able to view handwritten annotations, along with typed text notes, highlights and bookmarks on a book I purchased from Amazon.
However, I could not get annotations to show up on a PDF that I had sent to my Kindle Scribe. Only bookmarks sync. I tried deleting and redownloading the file but that didn't work either.
I also tried to see if annotations would sync on personal documents (an ebook, not a PDF) and I couldn't get them to show up either. I tried deleting the book and now the app won't let me redownload it because it says the storage is full, but apparently it's a new bug because the storage isn't close to full and I can still download other stuff.
It'll be interesting to hear what other people are experiencing with the new annotation sync feature. Is it working for you?
It might require the latest software update for the Kindle Scribe, version 5.16.3.1, that Amazon released last week, but I'm not sure if that's required or not since they don't update the release notes anymore.