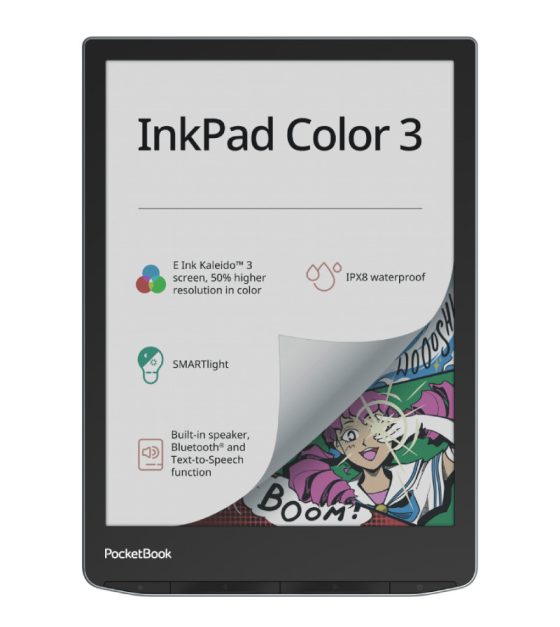 PocketBook has announced the upcoming release of a new InkPad Color 3 with a 7.8-inch color E Ink screen just a few months after they released the InkPad Color 2.
It looks like the InkPad Color 3 is exactly the same as the InkPad Color 2, except they're using a newer Kaleido 3 screen instead of a Kaleido Plus screen. The fact they were using an outdated Kaleido Plus screen never made any sense to begin with so the upgrade makes sense.
It sucks for everyone that bought an InkPad Color 2. PocketBook should offer of trade-in but of course they won't. PocketBook has released like ten new models this year so maybe they're going with the Onyx strategy of releasing new devices every few months to keep people interested in buying "new" products. It might be wise to wait a few months for the InkPad Color 4. 😀
I just posted a review of the InkPad Color 2 eariler this month so I won't be reviewing the InkPad Color 3. Most of the review is still relevant since all they changed was the screen.
The Kaleido 3 screens definitely look better than the Kaleido Plus screens so it's a good upgrade. As mentioned in the Kaleido 3 screen comparison review with the Tab Ultra C, the color grid layer is less visible than earlier color screens, and the color resolution is 150 ppi instead of 100 ppi.
Keep an eye on PocketBook's Amazon store for the InkPad Color 3. It's hard telling when it will show up for sale. They announced the InkPad Color 2 like three months before it was actually available to purchase, and they announced the InkPad X Pro over two months ago and it still isn't available either, which has majorly outdated software anyway so maybe they're going to release a new version of it too before it's even released. 😀
PocketBook InkPad Color 3 Video