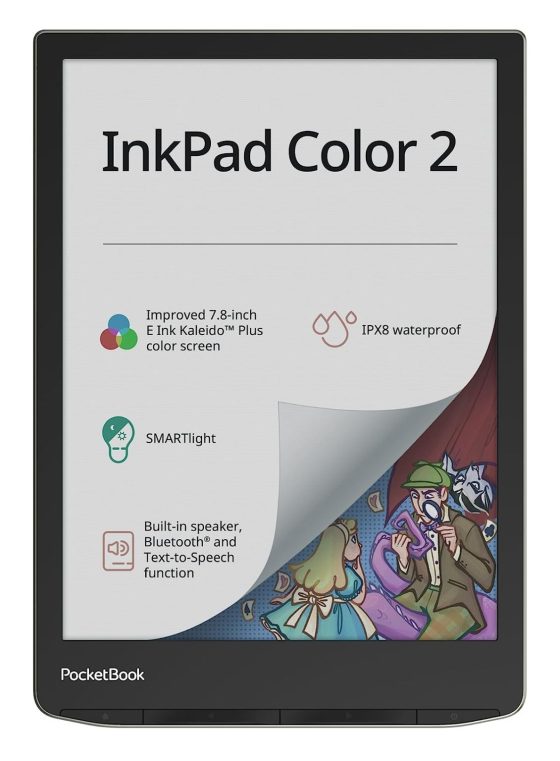 Review Date: October 2023 – Review unit purchased from Amazon
Overview
The PocketBook InkPad Color 2 was first announced in April of 2023 but it wasn't actually released until the end of July. The first generation InkPad Color was released in March of 2021 so it was on the market for a little under 2.5 years.
The InkPad Color 2 features an upgraded color screen, with better color quality and improved text contrast. They also added a warm frontlight, an external speaker for listening to audiobooks and text to speech, they doubled onboard storage space to 32GB, and they made it waterproof. They also upgraded it to a quad-core CPU so it's quite a bit zippier than the first gen model (good thing too because it was super slow).
Check the PocketBook InkPad Color 2 vs InkPad Color 1 Comparison to see the differences between the two versions and to learn more about the upgrades on the new model.
The InkPad Color 2 has a USB-C port, it supports dual-band WiFi, it has Bluetooth for streaming audio, it has a rotation sensor and physical buttons. It supports Dropbox for transferring files wirelessly, and it supports Adobe DRM for purchased ebooks and library ebooks.
Update: PocketBook released a newer version of this, the InkPad Color 3, just a few months after the InkPad Color 2. Everything is the same except the screen on the newer version is better and has higher resolution for color (150 ppi instead of 100 ppi).
PocketBook InkPad Color 2 Review
Pros
Color quality is better than 1st gen InkPad Color, and text looks darker as well.
Noticeably faster than 1st gen model thanks to the upgraded quad-core CPU.
More affordable than other color E Ink devices.
Software offers a decent amount of features without being too complicated to figure out.
Cons
Heavier than the first gen InkPad Color by about 45 grams, and they removed the microSD card slot.
It uses a Kaleido Plus screen instead of a newer Kaleido 3 screen with higher color resolution and a less visible color grid layer.
It's faster than the 1st gen model but it can still feel a bit slow at times compared to other E Ink devices.
Verdict
When they first announced the InkPad Color 2 I was disappointed they weren't using the latest version of color E Ink like on the Onyx Tab Ultra C, but after seeing it in person the screen is still quite a bit better than the first gen InkPad Color, and they actually did manage to improve quite a few other things while still keeping the price the same as before.
The new design has more of a premium feel to it, and I like how PocketBook is keeping the physical buttons on their ereaders, unlike Amazon. And the buttons support key mapping so you can program them to do a number of things.
Overall, the InkPad Color 2 is a solid upgrade over the first gen model. It's not as advanced as Onyx's devices, but it's more resonably-priced and it's a good option for someone that just wants a color ereader and not a full-fledged E Ink tablet.
PocketBook InkPad Color 2 Video Review
PocketBook InkPad Color 2 vs InkPad Color 1 Comparison
PocketBook InkPad Color 2 Specs
7.8-inch E Ink Kaleido Plus screen.
Resolution: 1404 × 1872 (greyscale) 468 × 624 (color).
Capacitive touchscreen.
Frontlight with temperature control.
Waterproof – IPX8 rated.
CPU: 1.8GHz octa-core.
1GB RAM.
32GB storage space.
WiFi (2.4GHz + 5GHz).
Bluetooth 5.0.
USB-C port.
Battery: 2900mAh Li-ion Polymer.
Rotation sensor.
Speaker.
Supported document formats: ACSM, AZW, AZW3, CBR, CBZ, CHM, DJVU, DOC, DOCX, EPUB(DRM), EPUB, FB2, FB2.ZIP, HTM, HTML, MOBI, PDF (DRM), PDF, PRC, RTF, TXT.
Dimensions: 134 × 189.5 × 7.95 mm.
Weight: 267 grams.
Sells for $329 USD on Amazon.