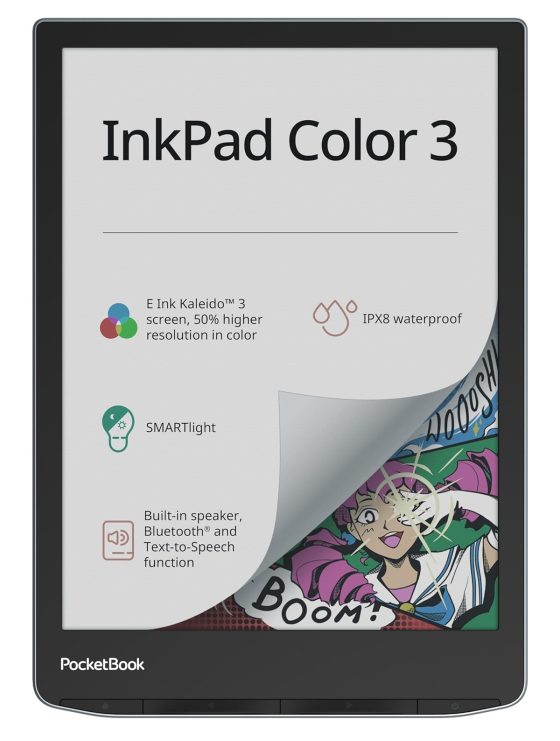 About a month PocketBook announced that they would be releasing a new InkPad Color 3 just a few months after releasing the InkPad Color 2, and now it's available to purchase for the same price as the short-lived 2nd gen model.
The PocketBook InkPad Color 3 can now be ordered from PocketBook's official Amazon store for $329.00 with free shipping. The delivery date is still a ways off, but Amazon's estimates are usually overly conservative when it comes to shipping new products that were just released.
You have to be careful because PocketBook is still selling the 1st and 2nd gen InkPad Colors on Amazon for the same $329, so if you're in the market for an ereader with a color E Ink screen make sure to get the third gen model because it's the best one. Frankly, the fact that PocketBook is doing that is pretty sketchy, like they're intentionally trying to stick it to people that don't know there's a newer version available for the same price.
The InkPad Color 3 is exactly the same as the InkPad Color 2, except it's using a newer Kaleido 3 screen from E Ink with improved color and higher resolution (150 ppi for color instead of 100 ppi). The fact they were using the older outdated color screens on the InkPad Color 2 never made any sense to begin with.
Check out my InkPad Color 2 review for more details about the device in general. The only difference on the newer model is the screen, and I also posted a quick review of Kaleido 3 screens awhile back too so make sure to check the video review for a closer look at how Kaleido 3 screens compare to regular black and white E Ink screens.
I still think Onyx's color E Ink devices are a lot better for most things related to color content, but they're more expensive and the InkPad Color has better battery life and it has more of an ereader vibe than Onyx's devices that more notebook and tablet oriented.