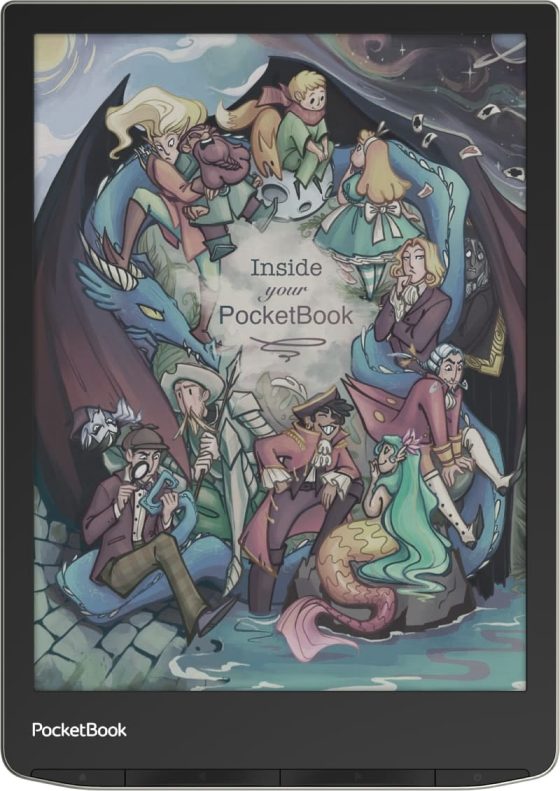 A couple weeks ago PocketBook announced the upcoming release of a second generation InkPad Color with a 7.8-inch color E Ink screen.
The InkPad Color 2 has a revised design and several upgrades over the first gen InkPad Color that was released over 2 years ago. They claim the screen has an improved color filter array for better color, but the weird thing is it's still using a Kaleido Plus screen like the first gen model instead of the newer Kaleido 3 screens that were released a year ago, so that doesn't make much sense.
But at least PocketBook has finally upgraded the CPU to a quad-core chip, so hopefully the overall performance will improve, and maybe PocketBooks will no longer be the slowest ereaders on the market now.
They also added a warm frontlight (the first gen model had a cool light only), and they added waterproofing (it's now IPX8-rated).
It appears to have a flush front screen now instead of an indented screen like the previous model, and the physical buttons have been moved down to the very bottom edge. Update: It still has an indented screen, unlike the InkPad 4, which shares the same design.
Here's the list of improvements:
List of Upgrades
Improved color screen.
Frontlight with adjustable color temperature.
Upgraded quad-core CPU (the original InkPad Color has a dual-core 1GHz CPU).
Speaker added.
Waterproof.
32GB of storage instead of 16GB, but it appears that they removed the memory card slot.
It's hard telling when the InkPad Color 2 will actually get released. PocketBook announced the PocketBook InkPad 4 back in March and it's still not available to purchase anywhere, at least not anywhere I can find. They announced the PocketBook Viva like 6 months ago and it's still not available either, and seems to have been abandoned. Who knows what PocketBook is doing at this point. I don't know why they keep announcing new products that you can't actually buy anywhere.
PocketBook InkPad Color 2 Video