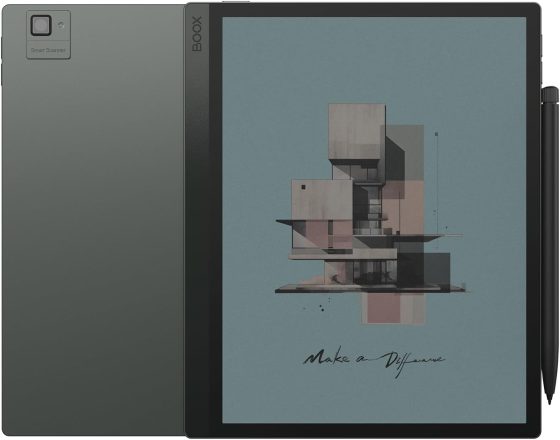 Onyx has officially released a new "Pro" version of the Tab Ultra C that came out earlier this year.
The Pro version comes with a few upgrades and a newer version of Android (12 instead of 11), but overall it doesn't look like much has changed. The Pro model has a slightly faster processor and more RAM (6GB instead of 4GB), and it's 30 grams lighter, but the battery is a lot smaller (4,600mAh vs 6,300mAh), and most of the specs and features are the same.
The Tab Ultra C Pro can be ordered from Onyx's Amazon stores as well as the Boox website. The price is $649.99 with free shipping, and there's also this Keyboard Cover with Trackpad that goes with it for $149.99.
The Tab Ultra C Pro has the same 10.3-inch color E Ink screen as the non-Pro model (see here for a comparison between it and a regular black and white E Ink screen), and it's the same screen that comes on the new Note Air3 C that was also just released (and it's a lot cheaper at $499).
Check out my Tab Ultra C review for a closer look at the non-Pro version in action, and to compare the differences (there's only a few).
Boox Tab Ultra C Pro Specs
10.3-inch E Ink Kaleido 3 screen.
Resolution: B/W: 2480 x 1860 (300 ppi) Color: 1240 x 930 (150 ppi).
Boox stylus included, supports 4,096 levels of pressure sensitivity.
Capacitive touchscreen.
Frontlight with warm and cool temperature control.
OS: Android 12 with Google Play.
CPU: Qualcomm 2.8Ghz Octa-core.
6GB RAM.
128GB storage space.
MicroSD card slot.
WiFi (2.4GHz + 5GHz).
Bluetooth 5.0.
USB-C port with OTG support.
Battery: 4,600mAh Li-ion Polymer.
16MP rear camera.
Rotation sensor.
Fingerprint reader.
Dual speakers and mics.
Supported document formats: PDF, DJVU, CBR, CBZ, EPUB, AZW3, MOBI, TXT, DOC, DOCX, FB2, CHM, RTF, HTML, ZIP, PRC, PPT, PPTX.
Dimensions: 225 x 184.5 x 6.6 mm.
Weight: 450 grams.
Sells for $649 USD on Amazon.
Introducing Tab Ultra C Pro
BOOX Tab Ultra C Pro Official Unboxing