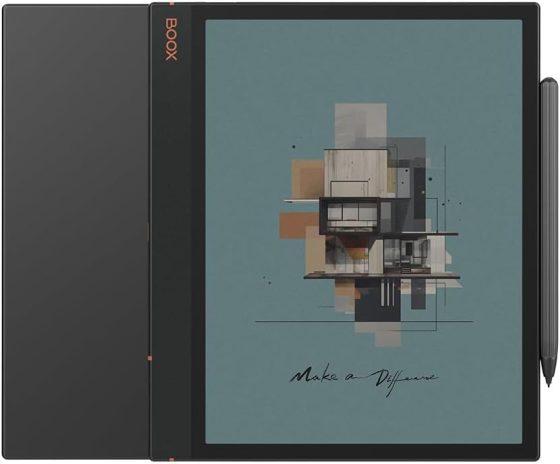 As expected, Onyx has officially released a new 10.3-inch eNote with a color E Ink screen called the Boox Note Air3 C, and it's already available to order from Amazon for $499.99 with free shipping.
The Note Air3 C is basically a Tab Ultra C inside a Note Air design. It has the same screen as the Tab Ultra C, and a lot of overlapping features, but with a lower price tag and a smaller battery, and the software is based on Android 12 instead of Android 11.
If you prefer a higher-end model, Onyx is also releasing a new Tab Ultra C Pro on October 27th. It has the same 10.3-inch color E Ink screen, but with some hardware upgrades, including a faster processor, more RAM and storage space, and a larger battery.
One thing that's surprising is the fact that there's no mention of a new Note Air3 with a black and white screen. Onyx is still selling the Note Air2 Plus that was released nearly a year and a half ago—it's very unusual for Onyx to go that long without releasing a new version (they usually release new models every 6-12 months). It makes you wonder if they're going to only offer color eNotes moving forward.
Note Air3 C Specs
10.3-inch E Ink Kaleido 3 screen.
Resolution: B/W: 2480 x 1860 (300 ppi) Color: 1240 x 930 (150 ppi).
Boox stylus included, supports 4,096 levels of pressure sensitivity.
Capacitive touchscreen.
Frontlight with warm and cool temperature control.
OS: Android 12.
CPU: 2.4GHz Qualcomm octa-core.
4GB RAM.
64GB storage space.
MicroSD card slot.
WiFi (2.4GHz + 5GHz).
Bluetooth 5.0.
USB-C port with OTG support.
Battery: 3,700mAh Li-ion Polymer.
Rotation sensor.
Fingerprint reader.
Dual speakers and mics.
Supported document formats: PDF, DJVU, CBR, CBZ, EPUB, AZW3, MOBI, TXT, DOC, DOCX, FB2, CHM, RTF, HTML, ZIP, PRC, PPT, PPTX.
Dimensions: 226 x 193 x 5.8 mm.
Weight: 430 grams.
Sells for $499 USD on Amazon.
Introducing Note Air3 C
BOOX Note Air3 C Official Unboxing