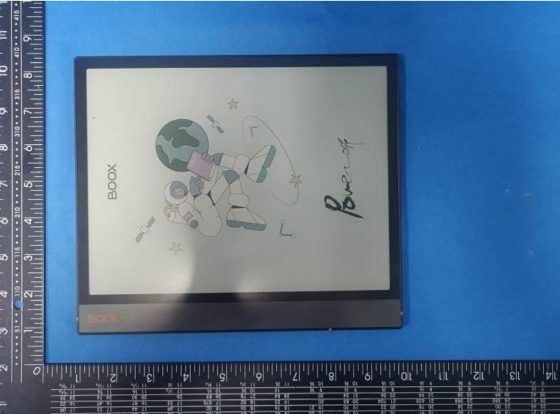 Onyx just released a new phone-sized E Ink device called the Palma a few days ago, and it looks like they've got a couple of other new devices that they're going to be releasing soon as well.
A Note Air3 C and Tab Ultra C Pro have both turned up on the FCC website. Neither has been officially announced yet, but some details can be gleaned from the paperwork, and there are a few product images of each model.
Onyx often releases "Pro" and "Plus" models with a few minor upgrades, like adding more storage or RAM or a slightly larger battery, so there probably aren't any big surprises when it comes to the new Tab Ultra C Pro.
The general design and casing of the Note Air3 C looks the same as the current Note Air2, but it clearly has a color E Ink screen, as the "C" indicates. This will be Onyx's first "Note" model to come with a color E Ink display. They've been selling a 7.8-inch Nova Air C for a couple of years now, and the Tab Ultra C and Tab Mini C that were released earlier this year have color screens.
It'll be interesting to see how the Note Air3 C differs from the Tab Ultra C. They both have 10″ screens and share most of the same features. The Tab line has more advanced specs than the Note line so they're a bit more expensive, but the Note models are still really nice.
The Note Air2 Plus currently sells for $449 and the Tab Ultra C sells for $599, so the Note Air3 C would have to sit somewhere in between them.
It's kind of surprising to see Onyx bring color E Ink to their Note line as well. There's going to be a lot of overlapping features between the Note and Tab lines. I thought maybe they'd keep color E Ink on the more expensive Tab models.
via: reddit