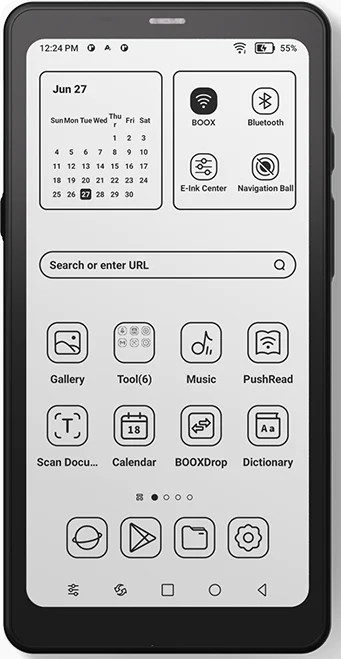 Onyx has released a new phone-sized E Ink device called the Palma. They did a test run a while back but it was only available for less than one day before it sold out, and now the official version has been released.
So far the Boox Palma is only available to order directly from Onyx's website, and it's selling for $279.99. There's a white version and a black version.
The Palma looks like a phone and it has a lot of phone-type features but it's not a phone—it doesn't have a SIM card slot.
Initially with the pre-release version they were advertising it as a distraction-free reading experience in a phone-sized format, but now they've changed their tune and are boasting about how many different things it can do and how it combines "cutting-edge performance" with an E Ink display.
It has a 6.13″ E Ink Carta 1200 screen, but it has a narrow ratio than typical E Ink ereaders so it's smaller and easier to hold one-handed like a phone. The screen has a resolution of 1648 x 824, with 300 ppi. There's also a frontlight with adjustable color temperature.
The Palma has an octa-core CPU and it supports Boox's Super Refresh technology. It has 6GB of RAM and 128GB of storage space, and there's a microSD card slot for expansion.
The Palma has Wi-Fi (2.4GHz + 5GHz) and Bluetooth (5.0), an auto-rotation sensor, a light sensor, and it has a 16MP rear camera with LED flash. There's a built-in speaker and a microphone. It has volume/page-turn buttons, a USB-C port, and the battery is listed at 3950mAh. The weight is 170 grams and the device measures 159 x 80 x 8.0mm.
Like Boox's other devices, the software is based on Android 11 and it has Google Play onboard to install apps.
There seems to be a growing interest in smaller pocketable ereaders lately. What do you think of the Boox Palma?
Introducing Boox Palma