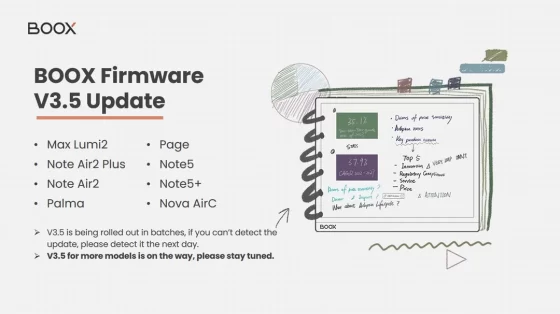 Onyx has started rolling out a new firmware update, version 3.5, for their lineup of Boox eNotes and ereaders, and the update adds several new features, some of which are pretty unique and interesting.
There's a page on Onyx's website with pictures and videos showing some of the new features with the 3.5 update. They added some new ways to take notes using the built-in NeoReader app, and you can now add blank pages to PDFs for extra writing space.
There's also a new AI Read feature that can give you a summary of a book in under 2 minutes, along with author info and related books. There are some new features for the Notebook app as well, and the Split Screen view is now customizable size-wise. Another cool new feature, system fonts are now customizable so you can change the look of the interface if you want.
Onyx seems to release software updates less frequently than they used to, but each update tends to add quite a few new features.
The way Onyx rolls out updates is they release it for newer devices first and then slowly add more older devices as time goes on. This is the list of devices they say are getting the 3.5 update:
New Devices
Tab Ultra C Pro
Note Air3 C
Palma
Other Devices
Tab Ultra C
Tab Ultra
Tab X
Tab Mini C
Max Lumi2
Max Lumi
Page
Poke5
Note Air2 Plus
Note Air2
Note Air
Note5
Nova Air2
Nova Air C
Nova Air
And More
It'll be interesting to see what devices are included in the "And More" category. On Onyx's website they say they will provide free firmware updates for all models for at least three years after the product is launched. There are some cases where that simply is not true, however, like with the Poke2 Color that was abandoned after a short run (and why aren't the Leaf2 or Poke4 models on the list when they were just released last year, yet the Note Air from 2021 is listed).
Check the Firmware Updates help page on Onyx's website for directions on how to update. Basically you just go to settings and hit the firmware update option. They no longer offer downloads for manual installation, and apparently if you wait too long to update it will no longer be available and you'll have to contact them to get the update.
via: reddit