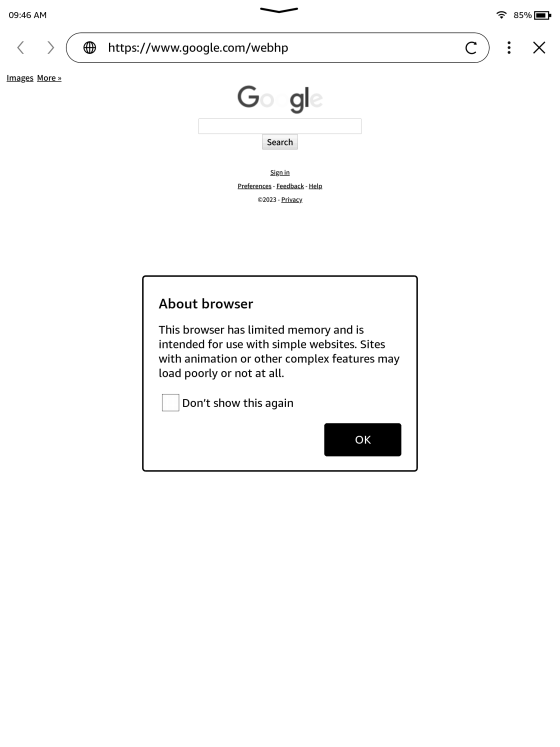 There are some posts on reddit about a new web browser turning up on some Kindles after the most recent software update that Amazon released a couple weeks ago.
There was no mention of any web browser improvements in the release notes for the 5.16.4 update, but not revealing all the changes with software updates is standard operating procedure for Amazon when it comes to Kindles.
So far it's unclear which Kindles are getting the new and improved web browser. It appears to only be available on certain models, or maybe it just hasn't been activated on the other models yet.
I installed the 5.16.4 update on my 11th gen Kindle Paperwhite, but it's still showing the old crappy web browser. However, my Kindle Scribe has the new web browser after installing the 5.16.4 update.
It's easy to tell the new web browser from the old one, and when you first open the new browser a popup box appears and says, "This browser has limited memory and is intended for use with simple websites. Sites with animation or other complex features may load poorly or not at all."
I gave the new web browser a quick test drive and it's definitely a big improvement over the previous web browser. It's actually usable now, but it's still not close to the level of the web browser on Onyx's Boox devices, especailly on their newer models with BSR like the Tab Ultra C.
The old Kindle web browser has been borderline nonfunctional for years. It crashes constantly and a lot of websites won't load at all. Even Wikipedia doesn't display right half the time, so it's nice to see Amazon finally making some improvements in that area.
Have you tried the new web browser on your Kindle? If so, what do you think? Will you use it more often now?