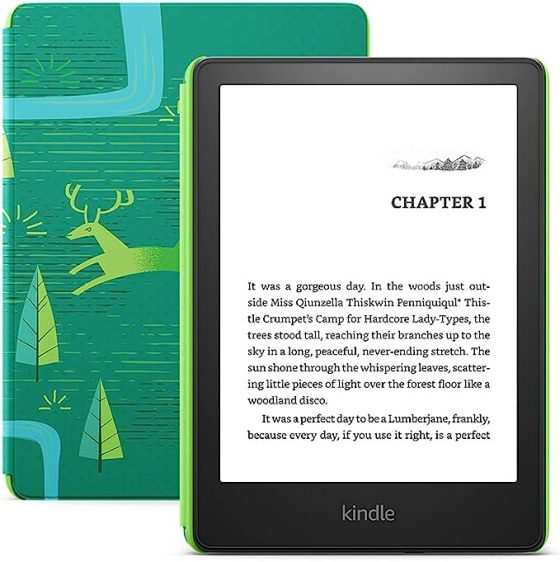 Amazon has started offering some early Black Friday deals on their Kindle bundle packages for Kids, and the deals are pretty underwhelming, to be honest.
I don't know what gives but the sale prices aren't nearly as low as they usually are; Amazon's Prime Day prices were a lot lower. Hopefully their other Kindle deals will be better than this (they have the Kindle Scribe on sale for its lowest price yet so there's that).
Last year for Black Friday Amazon had the 16GB version of the Kindle Paperwhite Kids marked down to $114.99. For this past Prime Day it was on sale for $104.99. This year for Black Friday it's $134.99. How does that make any sense?
The kids version of the entry-level 2022 Kindle isn't any better. It's only $20 off at $99.99. It was down to $75 for Prime Day, so again, it's not as good of a deal as it was before.
These Kids Kindles are exactly the same as regular Kindles. They're just a bundle package that includes a cover, an upgraded 2-year warranty (which covers accidental breakages, unlike the standard Kindle warranty), and a 1-year subscription to Amazon Kids+ for access to a library of kid-friendly content.
These used to be a good option for adults to buy as well because of the free cover and upgraded warranty, but at these prices that's no longer the case. And they used to be the ad-free versions when using them in regular mode instead of kids mode, but Amazon put an end to that so you have to pay an extra $20 to get rid of the screensaver ads now just like a regular Kindle.
Kids Kindle Deals
Kindle Paperwhite Kids – $134.99 ($35 off)
Kids Kindle – $99.99 ($20 off)
All three versions of the entry-level Kids Kindle are on sale for $99, but only 2 of the 3 versions of the Paperwhite Kids models are being discounted; the one with the Warrior Cats cover is still full price.