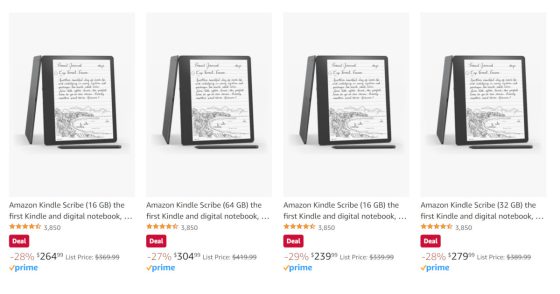 Amazon has started rolling out some of their early Black Friday Deals on Kindle ereaders, as they usually do this time of year, and they have the Kindle Scribe marked down to its lowest price ever (when purchased new).
The prices are $15 lower than they were during Prime Day, which is kind of surprising. You can get the 64GB version of the Kindle Scribe for $115 off the regular price, and the base 16GB model is $100 off.
Amazon has some Kindle Scribe accessories on sale as well, and of course the bundle packages are marked down too.
The Kindle Scribe is a great device if you want a Kindle with a larger screen, and it also doubles as an E Ink notebook. The notetaking features aren't as robust as some other devices, but the Scribe is much less expensive than other eNotes. In fact it's nearly half the price as some similar devices right now.
Check my Kindle Scribe review for more details about the device. Amazon has updated the software several times since the review was posted so there are some additional features now.
Here's the list of deals. The base 16GB model is the only one that comes with the basic stylus pen; all other versions come with the premium pen, which adds a dedicated eraser on one end and a button that can be programmed to do different things. The 16GB version is also available with the premium pen for an extra $25. There are way too many bundle packages to link to individually, but they're listed on each page right below the main configuration options.
Kindle Scribe Deals
Kindle Scribe 16GB – $239.99 ($100 off)
Kindle Scribe 32GB – $279.99 ($110 off)
Kindle Scribe 64GB – $304.99 ($115 off)
Kindle Scribe Accessories
Kindle Scribe Basic Pen – 10% off
Kindle Scribe Pen Replacement Tips – 20% off
Kindle Scribe Covers
Kindle Scribe Fabric Folio Cover – 7-10% off
Kindle Scribe Leather Folio Cover – 8-10% off
Kindle Scribe Brush Print Leather Folio Cover – 10% off
–
See the Black Friday Deals page at Amazon for more deals.