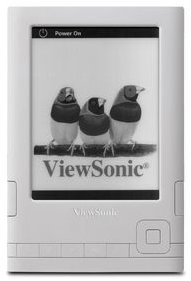 Here's some belated information and a couple of videos of some new ereaders from ViewSonic. There's also another model, the VEB625, that is similar to the 620, but has Wi-Fi and a touchscreen. Here's the press release regarding the VEB 620 and 625:
London, 22 April 2010 – ViewSonic Europe has announced the addition of two new products to its line up of eBook readers – the VEB 620 and the VEB 625. The flagship VEB 625 features touchscreen technology, allowing users to easily annotate their documents, take freehand notes and turn pages.

Both e-readers feature large 6" screens and adjustable font sizes, making text easy to read, and support common e-book formats such as ePub, PDF and .txt. The VEB 625 also features built-in wi-fi, letting users download content directly to their device even when they are on the move.

To further improve the ease of use for both devices, they feature a 'G-sensor' which automatically rotates the screen according to the orientation of the device, and allows users to turn pages by gently shaking the device. The integrated 2GB storage capacity in both devices, expandable via SD cards, means that users can have hundreds of books at their fingertips.

"The latest figures show that eBook sales have jumped up 176 per cent over the last year*. Although there are many types of e-readers available, not all are up to the task," explains James Coulson, European marketing manager "With the VEB 620 and VEB 625 we've improved the design of the standard eBook reader by making the devices easier to use and taking advantage of advances in technology, like the 'G-sensor', wi-fi and SD card slot."

Both the VEB 620 and VEB 625 double as an MP3 player, and feature a standard 3.5mm headphone socket, letting users listen to music while they read. Thanks to the e-ink technology in the e-readers, they are capable of up to 8,000 page turns without needing to be recharged, and feature a built-in Li-Ion battery.
ViewSonic VEB620
ViewSonic VEB632