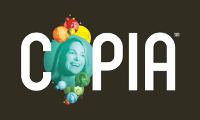 According to this press release, the Senior Vice President of Copia Interactive, Anthony Antolino, will be speaking at the Connected World Conference on Thursday, June 17 in Chicago, IL.
Copia is a new digital content delivery platform for newspapers, magazines, and ebooks with a focus on social networking. Copia was expected to release their new Copia Marketplace and Copia eReaders back in April, but got delayed for various reasons.
Presumably, Anthony Antolino will be discussing how to drive revenue using the Copia marketplace that will connect readers over various platforms and social media circles.
From the press release, notice the last sentence:
"The Copia platform will be a transformational offering that will fundamentally change the way that consumers interact with media. It will empower readers to share thoughts, ideas, recommendations and content mid-sentence with peers in a way that no other reading experience has," Antolino said. "Copia has been designed to enable anyone using any platform on any device to interact with it. Our idea to create a platform agnostic product has content producers quickly adopting our software as the industry standard for social media content driven experiences."

Recognizing the future potential of Copia, Connected World Magazine, the go-to magazine for upwardly mobile professionals interested in staying ahead of emerging technologies, trends, and business, will be distributed digitally exclusively through the Copia platform and will be available starting in July.
Here's a recent YouTube video demonstrating the Copia reader software by one of the lead developers of Copia.