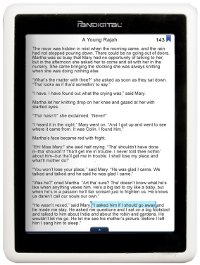 The Pandigital Novel finally got another firmware update on July 4th of all days (at least that's the date on the zip file).
The update can be found on Pandigital's download page, and requires the use of an SD memory card.
Working on the review for the new Kindle DX, I haven't had much time to test the new firmware, but I will update the Pandigital Novel review shortly to include all the details about how the new firmware affects overall use and performance.
So far, it looks like the new firmware addresses a lot of the issues that kept the Novel from being mass-released a few weeks ago. The screen orientation sensor now works; you can flip the Novel and the screen flips with it. Wi-Fi seems to be staying connected better. The touchscreen responsiveness has been improved, especially with the web browser; it isn't as jumpy anymore.
They also added the ability to read Adobe DRM ebooks, instead of just B&N's. A huge plus.
The speed still isn't that great. Turning pages and loading ebooks and web pages is slower than it should be, given the fact the Novel can play video. It's not that big of a deal, but needs to be improved.