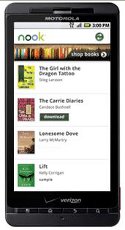 We all knew the Barnes and Noble ebook application for Android was coming sooner or later, and now it's officially available for download from the Android Marketplace.
Instead of calling it the "eReader" app for Android, as B&N refers to all their other apps, they've decided to call it Nook for Android.
In fact, the press release mentions that Barnes and Noble intends to update the other apps for iPad, iPhone, Blackberry, PC, and Mac in the coming months to bring the Nook brand name to them as well.
A good choice, getting away from the general term and going with their product name that's more well known and less ambiguous. Nook for iPad is a lot more definitive than eReader for iPad.
Nook for Android works with smartphones and other devices running Android 1.6 and higher. Features include the ability to lend certain ebooks for 14 days, there are eight font types and five font sizes, read in landscape or portrait modes with a lock for the screen orientation, choose what page to got to or use the scroll bar, and sync your library of ebooks and last page read across devices.
It does not currently have the ability to add notes or highlights as some of the other apps allow, and Barnes and Noble's newspaper and magazine subscriptions are not available for it yet—no big surprise there, can't get them on the other apps either.