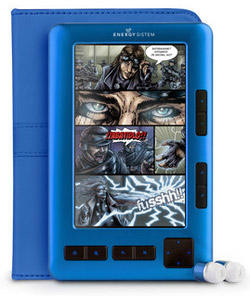 Energy Sistem, a small electronics company based in Spain, has some new color multi-purpose ebook readers, 2 of which are available now, and 2 more getting set to be released in November.
All four units are very similar. There are red and blue models that both have 2GB of internal memory, a white model that has 4GB of memory, and a grayish color that comes with 8GB of internal memory. All have a microSD card slot for expansion.
Aside from the color and difference in memory, the 4 units have the same set of features. Being multi-purpose ereaders, they're not only for ebooks, they play videos, music, and display photos too. They have 5-inch TFT LCD displays with a pixel resolution of 800 x 480.
These ereaders have a 1800mAh rechargeable Lithium battery, but there isn't any mention of battery life. I'd expect the battery to last anywhere from 5-7 hours for video playback, given the battery life of similar devices.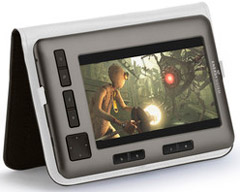 The Energy Sistem color ebook readers come with 1500 classic Spanish, English, Portuguese, and French ebooks. They also come with a case that props up the ereader for watching videos (shown right).
It isn't specifically mentioned, but I think these devices support Adobe DRM for PDF and EPUB ebooks since Energy Sistem's other ebook readers support that format. Here's the list of supported formats: TXT, HTML, PDF, EPUB, FB2, RTF, MOBI, CHM, DOC, WMA, MP3, JPEG, BMP, PNG, GIF, MP4, WMV, AVI, RMVB, FLV, ASF, 3GP, MOV.
Supported languages: Spanish, English, French, German, Portuguese, Russian, Greek, and Italian.
As far as ebook functions go, the specs list page-marking, zoom level adjusting, 5 different types of fonts, text margin adjustable, screen rotation, image viewer, etc.
For pricing, the Energy Sistem color ebook readers range from €129 for the 2GB model, €145 for the 4GB model, and €159 for the 8GB unit. They sell from the Energy Sistem website, as well as Pixmania. Pixmania has the 2GB model for £106.