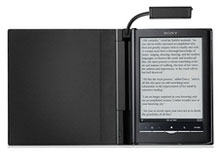 In an odd marketing twist that appears to be a big middle finger to those of us who bought a new Sony Touch or Sony Pocket when they were first released, there are suddenly a couple of really good deals on the Sony PRS-650 and PRS-350.
First, some of Sony's retailers like B&H Photo and Borders are giving away a free cover that has a built-in light with the purchase of a PRS-350 Pocket Edition or PRS-650 Touch Edition. The cover costs about $50 if purchased separately. The Borders offer appears to be valid in-store only, and just a few stores have them in stock so call ahead. The offer ends 10/30/2010.
A separate deal, Sony Style isn't offering a free cover with the purchase of a new ereader, but they are giving away $50 gift cards for ebooks from the Reader Store. This offer ends on October 31st and does not include pre-orders on the PRS-950 for some reason. Perhaps next month . . .
The last promotion is a chance to win a new Sony Reader or a $2,000 gift card. It's unclear which Sony Reader is being given away because in true Sony fashion, there's a typo on the contest description page. It says "win a PRS-350SC Reader Touch Edition". The last time I checked the PRS-350 was in fact the "Pocket Edition". From the subtle clues, it does appear that they meant to say Pocket Edition, since there is no silver 650 in the US.
Anyway, if you sign up to receive Sony emails then you get entered into a series of weekly drawings to win a Sony Reader, and a chance to win a $2,000 Sony Style gift card for signing up.