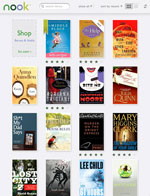 So the big news this week is that Barnes and Noble has sent out media invites for an event on Tuesday, October 26th in New York to make an announcement. Seeing as how it's been almost 1 year to the day the original Nook was revealed, Barnes and Noble is expected to unveil a new Nook.
There's an interesting article posted over at CNet that says a trusted source has indicated that the new Nook will be an android-based tablet called the Nook Color.
According to CNet's source, the Nook Color will have a 7-inch display and will sell for $249. Thus B&N will continue to offer the original Nook as an E Ink ereader, which goes along with the announcement earlier in the week about a big new Nook firmware update coming next month.
Thinking about it, the Nook Color sounds like a very probable scenario with Barnes and Noble. They've already got their ebook store on a few tablets like the Pandigital Novel and through their apps on the iPad and Android-powered devices (that's where this post's image is from). Having their own Nook branded Android tablet seems logical.
The biggest question will be what type of tablet the Nook Color will turn out to be. Will it be another Pandigital Novel clone? Or will it be something new. The CNet article speculates about a color Mirasol display, but I doubt it will be anything other than ordinary LCD screen at $249.
Guess we'll find out Tuesday.