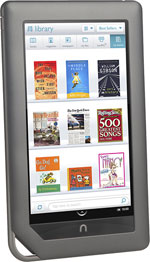 Now that Barnes and Noble has revealed their latest shiny new gadget, the Nook Color, it's a good time to go over all of the official specs and make a list of the pros and cons of the device as an ebook reader and as a tablet.
If you look at the date of this article you see that it was published before the Nook's release. On January 4th, 2011 I went ahead and updated this post after having used the Nook Color since its release in mid-November.
Make sure to check the new dedicated Nook Color Review page for my full hands-on review, video review, photos, and the complete list of specs.
Nook Color Pros
Ideal for color content: magazines, children's books, cookbooks, magazines, newspapers, etc.
Android operating system.
You can hack the Nook Color to add the Android Market and install 3rd-party apps.
ARM Cortex A8 processor.
7-inch capacitive LCD touchscreen with 16 million colors and a viewing angle of 178 degrees.
1024 x 600 high resolution display with 169 pixels per inch.
Plays videos smoothly that are embedded in ebooks as well as MP4 videos (learn how to set up videos on the Nook Color).
Play music and stream Pandora internet radio.
Browse the web and send and receive email.
The Nook Color will be updated by B&N to run Android 2.2, which includes Flash support for web videos.
B&N plan to introduce Nook app store in Q1 2011 to download apps.
Comes with 8GB of memory and there's a microSD card slot for cards up to 32GB.
Built-in WiFi.
Adjust font size, type, spacing, and background color.
Adjust backlight brightness.
Supports Adobe DRM for ebooks from a wide range of ebook stores as well as free library ebooks.
Quickoffice software for viewing Microsoft Office files.
Customizable homepage, bookshelves, wallpaper.
Nook apps are available on several platforms for reading and syncing ebooks across multiple devices.
Share ebooks and passages with friends via Facebook and Twitter directly within the reading app.
Import Google contacts.
Lend certain ebooks for 14 days with LendMe.
Access to Barnes and Noble's in-store exclusive content with More In Store.
Read ebooks for free while visiting B&N stores with B&N's Read In Store feature (up to an hour per day).
Ebook section for Kid's books called Nook Kids.
Alive Touch feature lets kids interact with words and pictures, and the Read To Me feature reads a story aloud.
Nook Color Cons
LCD display is prone to reflection and poor visibility in bright lighting conditions.
LCD displays drain battery power, giving the Nook Color just 8 hours of battery life for reading compared to 1-4 weeks for an E Ink ereader.
Some people have problems with eyestrain when using backlit LCD displays.
PDF support is basic.
B&N won't give access to the Android Market, not allowing full access to all the apps.
No Flash support until 2.2 update.
B&N's DRM won't allow you to display your purchased ebooks on anything but a B&N-supported device/software.
No 3G connection.
Battery not user-replaceable.
At just under 1 pound it's a little on the heavy side.
Fingerprints.
Only available in the United States.
Nook Color Review Conclusion
The Nook Color is a multimedia device first and an ereader second. Given its feature-set it clearly isn't designed for the person who is a hardcore reader like the original Nook was. It is designed more for casual readers that enjoy reading color content in the from of magazines, newspapers, etc., and want to be able to browse the web, send emails, and play video and music as well as read.
For those that read for several hours a day, an E Ink ereader is probably going to be a better choice with its high-contrast display that's easier on the eyes and long battery life for weeks of reading. What it all comes down to is personal preference, of course. So which do you choose? An ereader? Or a tablet that doubles as an ereader?