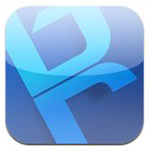 The Bluefire Reader app for iPad and iPhone has just been updated to add support for reading borrowed library ebooks through the Overdrive service.
Bluefire Reader is a free app that supports EPUB and PDF file formats, including Adobe DRM protected EPUB and PDF files.
Here's the download link for the app on iTunes. And here's the link for the directions on how to add library ebooks to the Bluefire app.
Unfortunately you cannot download library ebooks directly to the iPad/iPhone because you have to use a computer with an authorized version of Adobe Digital Editions on it—which is required for library ebooks. You then have to transfer the ebooks using Apple's infamous middleman, iTunes.