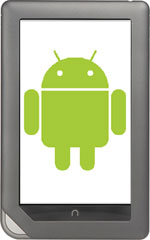 So I decided to root my Nook Color last weekend because I wanted to try installing some Android apps. It took a little time to work out, but I finally got it to work and have been experimenting with installing different apps on the Nook Color all week.
Certain apps work great and others not so much. It definitely takes some patience and some trial and error.
Here's a look at some of my results on the new Hacked Nook Color Review page. There's plenty of screenshots, suggestions for apps, and some thoughts on the Nook Color as an Android tablet.
Now all I've got to do is figure out how to install the Android Market app on the Nook Color and I'll be good to go.