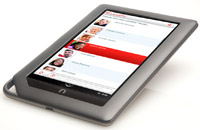 Barnes and Noble issued a minor firmware update for the Nook Color, version 1.0.1, that improves the web browser and WiFi connectivity.
The problem, however, is that you don't have a choice whether or not you want to install it, and once it does install automatically it does some seriously strange things if you hacked your Nook Color to install Android apps.
I had my Nook Color charging this morning and then when I turned it on there was a little green "n" icon in the lower left corner. I tapped it and it informed me that my Nook Color's firmware had been updated to version 1.0.1.
I tried to open some of the apps that I had installed but they would not open. I tried others and they worked fine. I decided to reboot the Nook Color to see what if that would correct the problem. Bad idea.
Ten minutes later and the Nook Color's load screen is still showing. Nothing's happening. I turn it off and try again. After 5 more minutes of waiting for the NC to load, I decide there's not much left to do but a factory reset by holding the power button, "n" button, and volume+ button at the same time with the NC turned off.
The factory reset goes normal and now I'm back to an original un-rooted Nook Color with all my apps . . . gone.
Thanks a lot B&N. Now I and a whole bunch of other people have to do the whole hacking process all over again.
And another problem this made me aware of is the fact that B&N forces you to register the NC when you first start it up; there's no way to get past the set-up process without giving B&N an email address and a user password to set up an account with them.
New Nook Color Hack For Firmware 1.0.1
Okay, enough complaining already. Here's the quick way to hack the Nook Color all over again, plus perks like the Android Market, Gmail, YouTube, and so on.
Follow the directions over at the XDA forums. I went through the whole process in just a few minutes. The hardest part is loading all your apps back on it again. But now the Nook Color is better than ever with the Android Market app (I never got around to installing it previously). Well worth the trouble in the end, I suppose.