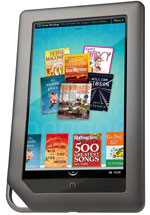 If you read my hacked Nook Color review before yesterday, you might want to go check it out again.
I had to revise it considerably after installing the new hack for the Nook Color that installs the Android Market and provides solutions for apps that require menu and back buttons.
The new hacking process is so much easier than the original method. And once you get everything set up, the Android Market app works great. It turns the Nook Color into a completely different device, while still preserving all its original features and functions.
It is so nice being able to have access to the best and latest apps right from the Nook Color itself, and to have them updated when updates are available. If you haven't hacked your Nook Color yet to add the Android Market, you are missing out on a lot of cool stuff.