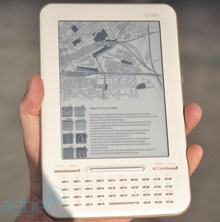 The iRiver Story HD brings much needed innovation to the dedicated ebook reader industry with its 6″ XGA 1024 x 768 resolution display.
Not only is it the first ereader with a high resolution display (most 6″ ereaders are 800 x 600), it uses new screen technology developed by LG that actually has a good shot at taking on E Ink, a company that pretty much holds a monopoly on the epaper industry.
E Ink's only major competitor is SiPix, and SiPix's epaper screens are noticeably inferior. E Ink needs more competition to press innovation because their technology has improved very little over the past 5 years. Vizplex to Pearl is hardly noticeable to the average person and E Ink's color displays have yet to reach the market.
Hopefully iRiver can succeed in adding more depth to the dedicated ereader market with the Story HD, due to arrive in May.
Aside from the screen, the Story HD sports some other interesting features. It comes with the new faster Freescale chipset, which will supposedly make it the fastest ereader. It can download ebooks over WiFi, and supports the Easy WiFi Network for accessing any open or subscribed WiFi network automatically. Battery life is rated at 3 weeks. And the Story HD supports Adobe DRM for PDF and EPUB ebooks encumbered with DRM. For memory it has an SD card slot and comes with 2GB internal.
No official word on pricing.
iRiver Story HD Video
Via: Engadget