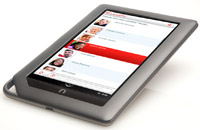 Barnes and Noble just released a new firmware update for the Nook Color that adds some new features and fixes some bugs.
The update is version 1.1.0 and unfortunately isn't the BIG update we've been waiting for that will upgrade the Nook's operating system to Android 2.2.
This is a minor update that improves Wi-Fi connectivity, adds pinch-to-zoom to the web browser and adds related Nook Color information and tips to the browser's home page, enhances magazines and children's books, and a "show password" option has been added, among miscellaneous bug fixes and performance enhancements.
The update is available for manual download from Barnes and Noble's support page. Or you can wait for an automatic update to be pushed to your Nook Color over the next few days. This will be evident with a little green "n" icon in the lower left notifications bar.
If you hacked your Nook Color this automatic update could possibly reset the root or cause other problems as happened to me with the last firmware update. This could require having to redo the hacking process all over again.
The folks at XDA forums are working on ways to stop the automatic update from installing, but I decided I'm just going to turn Wi-Fi off for now and wait and see what the reports are after the auto update starts rolling out.