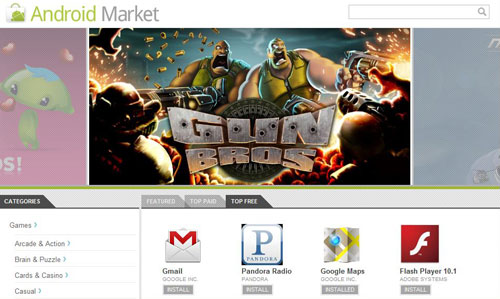 Yesterday Google unveiled Android 3.0, the first version of Android designed with tablets in mind, and the Android Market Web Store, a web-based version of the Android Market that was previously only accessible from select Android phones and tablets.
Other announcements include the addition of a Twitter sharing feature for tweeting your favorite apps, Android apps can now have in-app purchasing, and new currency options have been added so that app developers can set their prices for different currencies.
Android Market for the Web
The new Google Android Market Web Store is reminiscent of other popular app stores. The top banner rotates featured apps and there are all the usual sections for top free, top paid, and featured apps, along with various categories for games, productivity, entertainment, etc.
Once signed in with your Google account, clicking "Install" on an app in the Web Store opens a pop-up where you can choose from a list of your Android devices to send it to.
At first glance, having access to the Android Market from your web browser sounds like a great way to download apps to your non-market compatible device, but unfortunately that's not the case. The apps will only download to registered devices with Android Market access, so downloading apps to your Pandigital Novel or other tablet won't work unless you already have a Android Market hack installed.
One can only hope that Google will eventually open up the Android Market Web Store to non-market tablets too. The Web Store provides an easy way to find and sync apps, research them, and link to them, but it doesn't do a whole lot for all the people that don't have a device with Android Market access, which just happens to include the vast majority of all Android tablets and ereaders sold last year.
Android 3.0 Honeycomb – An Android for Tablets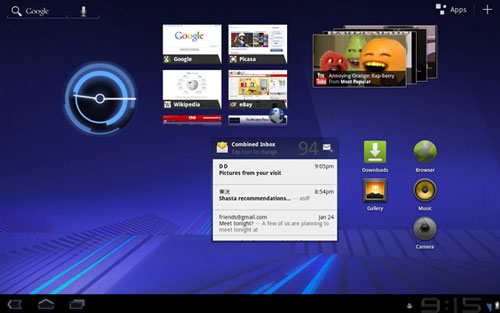 Unlike previous versions of Android that were developed for smartphones, Android 3.0 Honeycomb was designed from the ground up for larger-screened portable devices—tablets.
Honeycomb features a revamped user interface using on-screen buttons for all navigation—no physical buttons are needed. Multitasking and widgets are a major focus. There's a new notifications system, built-in video chat, and upgrades to hardware acceleration for 2D and 3D graphics, among other things. Check out the video below for a demo of Android 3.0 on the Motorola Xoom.
Video of Google's Android Event