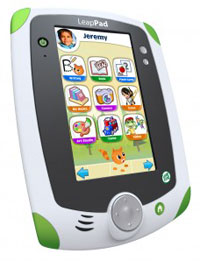 2011 is quickly becoming the year for the tablet, and Leapfrog, the renowned child edutainment company, has decided to join the craze. The LeapPad Explorer will be a multifunctional touch-screen tool that will offer both educational and entertaining programming for children.
Leapfrog is one of the leading software companies for children, and became very successful with their Leapster Explorer. This edutainment tool offers a multitude of "learning games, videos, e-Books, flashcards," and much more. The LeapPad Explorer will be compatible with the Leapster library, meaning there will already be a plethora of resources readily accessible.
The LeapPad will also offer new software programs that cover all areas of study for children ages 4 and up. The LeapPad has been designed around children and their mode of play, including a "rough and tumble" withstanding package.
The LeapPad includes an accelerometer for an "in-game tilt action." With the five-inch touchscreen, children will be able to practice handwriting—a very important area of study in their early years of education. This device also includes a variety of tools that will help children express their own unique creativity—including a built-in camera that can take still and video footage, a microphone for audio recording, and an animation studio.
For some parents, the most important tool that the LeapPad will offer is access to Leapfrog's Learning Path program. This interactive website allows parent's to receive email updates about and track their child's progress in their games. This site also allows parents to communicate to each other and offer advice for any issue that may come up.
The LeapPad is set to be available in the summer for the northern hemisphere. The suggested US retail price is said to be $99.99, while each cartridge will run at about $24.99.
Via: Gizmag