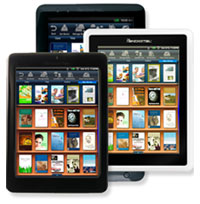 One question that I get asked all the time is how to install apps on the Pandigital Novel.
Now that Pandigital has opened up their line of Android tablets to install 3rd party apps, the process of installing apps has become a lot easier. You can install them onto the device right out of the box without any firmware updates, hacks, or any technical work.
The video below will show you how to manage apps on your Pandigital Novel eReader, how to install apps, where to find them, and how to uninstall them.
The video features the black Pandigital Novel, which runs Android 1.5, but for the most part the same steps apply for the white Pandigital Novel, the 9″ Novel, and the new colored varieties.
One thing to note, the video will suggest you visit the Android Apps Installation Guide for further instruction and for links to download apps. One thing that differs from those instructions is that the Pandigital Novel doesn't require an SD card to install apps like a lot of other devices do; you can install them directly on the internal SD card.
More help and information can be found on Pandigital's website. Here's the link to their download section for the user manuals, quick start guides, and firmware updates. If you have an old Pandigital Novel you'll need to update the firmware first.
Pandigital Novel App Installation Tutorial