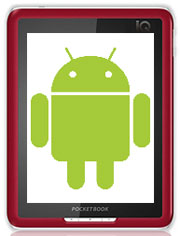 There's a lot to learn when first getting started with Android-powered ereaders and tablets such as the Pandigital Novel, Pocketbook IQ, Next3, or a number of other devices. Often times there aren't any directions on how to install Android apps, so here's a quick tutorial to get started.
First, you're going to need a compatible memory card for your device to install new apps in most cases. To install them just place the app on your SD card and then select the app's APK file using your device's File Manager. Another method is to download the APK files using the device's web browser. Once the download is finished tap the file to prompt install.
With some ereaders and tablets you need to go into settings, select Applications, and then check the box to allow installing apps from unknown sources. Some devices don't have an option for this; they are set to allow them or disallow them by default.
The next thing to know is if your device doesn't come with the Android Market app, you're not going to get the Android Market on your ereader unless you find a hack for that specific device, as is the case with the Nook Color. This means you have to rely on other app stores such as Amazon's Android Appstore, SlideMe, or download Android apk install files from websites like Android Freeware.
Another option is to install an Android Emulator on your computer, set it up to get access to the Android Market, download apps with it, and then extract them to load onto your Android-powered device.
This does take some technical work to set-up, but grants access to the widest selection of apps. Follow the directions outlined in the comments of this blog post. Then make sure to read this comment to learn how to extract the APK files.
One last thing to be aware of before you start buying apps is that not all apps are going to work properly on an Android tablet because they were designed for phones with 3G, GPS, cameras, etc. Make sure to research compatibility first.
Get Started With Some Apps
If you want some reading apps, you can download a ZIP package that I have set up on the Android Reading Apps page.
The best ereading app for EPUB ebooks, including those with Adobe DRM, is Aldiko 2.0. It requires Android 2.1 or higher.
Don't forget to get the new Overdrive app for free library ebooks and audiobooks.
And here's an old YouTube app APK if you're having trouble finding a version that works.
Don't forget to search Android Freeware and Amazon's Appstore for apps in all shapes and sizes.
Suggested Starter Apps
Here's a list of popular apps you may find helpful to have installed:
Amazon Apps – App found at Amazon for downloading Android apps.
Sam – App found at SlideMe for downloading apps.
Astro File Manager – A popular file manager app.
Dolphin HD, Opera Mini, Skyfire – Web Browsers.
ADW Launcher, Launcher Pro – With these you can change your homescreen, install different themes, customize appearance, etc.
Google Maps, Street View – What you would expect.
Dictionary – There are various free and paid dictionary apps.
NotePad – There are many free notepad apps. Evernote is probably the most popular.
Pandora – A free internet radio app.
Advanced Task Killer – This closes running apps.
Spare Parts – Allows you to enable settings not found in the default setting menu. Having trouble not getting fullscreen to work? Install this app, open it, then un-check compatibility mode, and reboot.