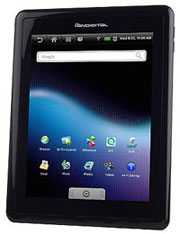 In an effort to cause mass confusion, Pandigital has quietly released yet another variation of an Android tablet/ereader to go along with their two 9″ models, the white Novel, the black Novel, and the multi-colored versions, each with their own subtle differences, positives, and negatives.
This new Pandigital Tablet looks a lot like the black Pandigital Novel, which I just did a video tutorial for last week. But this one isn't being marketed as an ereader, and doesn't mention anything about connecting to Barnes and Noble's ebook store like all the other models do. In fact there's no mention of a pre-installed ebook program whatsoever, and the term ereader isn't used at all.
It is called the "Pandigital 7″ Touch Screen Android Wi-Fi Media Tablet". And is selling exclusively from QVC until 3/21/2011. The current price is $139. Looks like a pretty good deal, actually.
The listing at QVC describes it as having Android 2.0, but the user manual indicates Android 2.1, so your guess is as good as mine.
For the most part the specs are identical to the white Pandigital Novel. It has a 7″ TFT resistive touchscreen with a resolution of 800 x 600. There's 2GB of internal memory and an SD card slot. It has a Samsung ARM 11 mobile processor, 256MB DRAM, built-in speakers, accelerometer, headphone jack, and mini USB 2.0 port.
Out of the box the Pandigital tablet comes with a cradle/stand, AC adapter, USB cable, user manual, and quick-start guide.
It doesn't appear to come with very many apps. There's OfficeSuite for Microsoft Office files and PDFs, a web browser, File Manager, email app, and the usual apps for photos, videos, music, etc. It also comes with the SlideMe app for installing 3rd party Android apps. But again, there doesn't appear to be any e-reading apps so those will have to be installed manually.