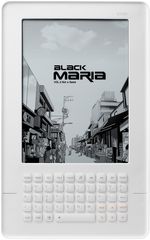 The UK is starting to get their fair share of budget ereaders. WHSmith has the iRiver Story WiFi on sale for £99.99, marked down from £199, and Waterstones has the iRiver Touchscreen eReader for £99.99 as well, marked down from £149.99.
For comparisons sake, the Kobo WiFi is also selling for £99 from WHSmith and the Kindle WiFi costs £111 at Amazon UK.
The iRiver Story WiFi features a 6-inch E Ink screen (Vizplex), 2GB of internal memory, an SD card slot for cards up to 32GB, and it supports Office files, audio, and ePub, PDF, TXT ebook formats, including Adobe DRM. Battery life is rated at 9000 page-turns and the Kindle-esque keyboard can be used to take notes.
The iRiver Story Touch has WiFi too, and pretty much the exact same features as the non-touch model mentioned above, minus the keyboard of course. The touchscreen is reflective and affects the clarity of the text, however, making the fonts appear less clear.
Given these sales, it makes you wonder if iRiver is clearing stock to get ready to release the iRiver Story HD that was shown at CES earlier this year.