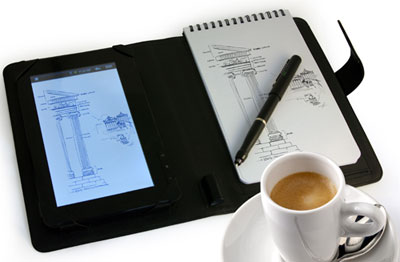 NextBook quietly released two new Android ereaders/tablets this past week, the Next5 (pictured above) and the Next6. There have been no sightings of the Next4 however, the third new model expected to be released this spring by NextBook.
Both new devices are available from JR.com. The Next5 is selling for $199, marked down from $299, and the Next6 is listed for $229.
The Next5 and Next6 have a lot in common. Both run Android 2.1, have SD memory card slots, WiFi, g-sensors, Adobe DRM support, built-in speakers, connect to Borders for ebooks, and feature 7″ 800 x 480 TFT LCD touchscreens.
What's interesting about the Next5 is that it is the first device to incorporate E-FUN's patented digital APEN writing tool. With the writing tool you can create real-time annotations on documents, photos, add electronic signatures, create handwritten emails, drawings, etc.
The Next6 is essentially an updated version of the Next2, sharing most of the same features. The main difference is that the Next6 has a capacitive touchscreen instead of resistive. It also comes with double the memory, 4GB instead of 2GB.
I'll be getting a Next5 in to review later this month so stayed tuned for more details. I'm looking forward to seeing how the APEN works.