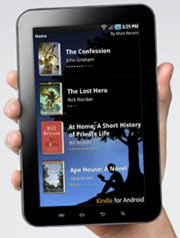 The Samsung Galaxy Tab's price has been falling more and more lately, probably to make room for Samsung's upcoming 8.9″ and 10.1″ Honeycomb tablets.
Sprint and Verizon both have the 7-inch Galaxy Tab for $199 with a two-year contract. Verizon's contracts run from $20-$80 per month and Sprint's are $30 and $60, depending on data allowances. The non-contract Galaxy Tab is still a hefty $499.
In other Galaxy Tab news, Samsung announced today that a WiFi-only version will hit stores this Sunday, April 10th. The MSRP for the WiFi-only Tab is set at $349. The retailers mentioned were Tiger Direct, CompUSA, and Circuit City, but more are presumably to follow.
Running Android 2.2, the Galaxy Tab features a 7-inch 1024 x 600 touchscreen and comes pre-installed with the Kindle e-reading app. It is powered by a 1GHz Hummingbird processor for watching 1080p HD movies and playing 3D games, web browsing with Flash support, email, music, video chat, etc. It only has 2GB of internal memory but comes with a 16GB microSD card pre-installed.
Essentially the Galaxy Tab is a beefed-up Nook Color with front and rear-facing cameras, and 3G if you opt for it. At $349 the WiFi-only model is overpriced unless you really want the cameras or don't want to mess with hacking the Nook Color because it can do about 90% of the things the Galaxy Tab can do at $100 less.
Samsung has yet to confirm or deny if the Galaxy Tab will be upgradable to Honeycomb. Regardless, prices are likely to continue to drop even more with all the new tablets getting set to hit the market.