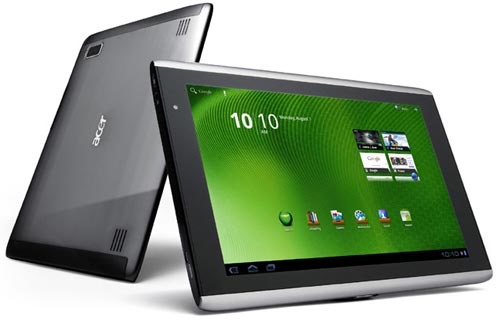 Yesterday Acer announced the launch of its first Android tablet, the Acer Iconia A500—and it comes at a competitve price-point, $449, given the specs are pretty much identical to the Motorola Xoom, minus 16GB of internal memory.
The Acer Iconia tablet features a 10″ 1280 x 800 resolution touchscreen, WiFi and Bluetooth, HDMI port, 1GHz NVIDIA Tegra 2 dual-core processor, 1GB DDR2 memory, 16GB of internal memory, microSD card slot for cards up to 32GB, and of course it runs Android 3.0 Honeycomb.
The Iconia also comes with a 2MP front-facing webcam for video chat and a 5MP rear camera with flash and 720p video recording. It can play 1080p HD video and 3D games, including flash-based video, games, and applications.
According to Acer, the 10-point touch display and six-axis motion sensing gyro meter control provide an entertainment experience on par with the best game consoles. In fact, the Acer Iconia comes pre-loaded with two games, "Need for Speed: Shift" and "Let's Golf".
For e-reading, the tablet comes pre-installed with the Acer LumiRead and Google Books ereading apps, and the Zinio app for reading full-color digital magazines.
Dimension-wise, Acer's new tablet weighs about 1.69 pounds and measures 10.24 x 6.97 x 0.52-inches. Battery life is rated at 8-10 hours.
Additionally, Acer offers several accesories for the Iconia A500. Here's a snippet from the press release:
The full-sized dedicated keyboard connects to the tablet via Bluetooth to boost productivity. MSRP is $69.99.
The dock with IR remote securely holds the Acer Iconia Tab A500 into a secure position with two tilt angles. The dock charges the unit and includes a connection for an external speaker or headphone. MSRP is $79.99.
The sleek protective case guards the tablet without adding weight or bulk. It allows access to the connectors and ports, while also propping it up in two positions while on a desk or nightstand. MSRP is $39.99.
The Americas power adapter set comes with three connectors used in the United States, United Kingdom and Europe. MSRP is $29.99.
The Acer Iconia is up for pre-order exclusively from Best Buy for $449, about $150 less than the Xoom and $50 less than the 16GB iPad 2. The Iconia A500 officially hits shelves on April 24th. There's also a 32GB model in the works.