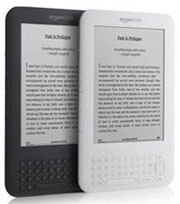 Somewhere a pig is flying. Amazon announced today that the Kindle and Kindle reading apps will soon be getting support for library books through a service called OverDrive, which currently provides access to over 11,000 libraries in the United States with support for just about every ebook reader but the Kindle.
The press release also reveals an interesting feature that Amazon will be adding to library lending: annotations and bookmarks.
"We're doing a little something extra here," Marine continued. "Normally, making margin notes in library books is a big no-no. But we're extending our Whispersync technology so that you can highlight and add margin notes to Kindle books you check out from your local library. Your notes will not show up when the next patron checks out the book. But if you check out the book again, or subsequently buy it, your notes will be there just as you left them, perfectly Whispersynced."
Not supporting library ebooks is one of the main things holding the Kindle back in the eyes of many potential buyers who want the option to read library books on their ereader.
By adding support for library books, Amazon looks to further strengthen their hold on the ebook reader market. The only main negative now with the Kindle is the lack of support for EPUB format, but with library ebook support, that becomes less of an issue.
It's not specified in the press release, but logic suggests the library ebooks will use MOBI DRM for the Kindle. Some libraries already carry ebooks with Mobipocket DRM, so support for that is already in place. And Amazon's format is very closely related to MOBI; Kindles already support DRM-free MOBI.
If you're curious about the process of borrowing ebooks from your local library, check out this earlier post: How to Get Free eBooks From Libraries Using OverDrive
Update: Here's more information from the OverDrive Blog regarding what Kindle Library Lending means for libraries and schools:
The Kindle Library Lending program will integrate into your existing OverDrive-powered 'Virtual Branch' website.

Your existing collection of downloadable eBooks will be available to Kindle customers. As you add new eBooks to your collection, those titles will also be available in Kindle format for lending to Kindle and Kindle reading apps. Your library will not need to purchase any additional units to have Kindle compatibility. This will work for your existing copies and units.

A user will be able to browse for titles on any desktop or mobile operating system, check out a title with a library card, and then select Kindle as the delivery destination. The borrowed title will then be able to be enjoyed using any Kindle device and all of Amazon's free Kindle Reading Apps.

The Kindle eBook titles borrowed from a library will carry the same rules and policies as all our other eBooks.

The Kindle Library Lending program will support publishers' existing lending models.

Your users' confidential information will be protected.

The Kindle Library Lending program is only available for libraries, schools, and colleges in the United States.