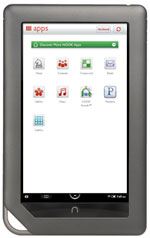 Today Barnes and Noble pulled the curtain off their much-anticipated Nook Color firmware update, version 1.2, that upgrades the operating system to Froyo (Android 2.2) and adds a number of new features, including support for Adobe Flash and access to the new Nook Color Appstore.
The Nook Color firmware update is available for manual download and install from B&N's support page, along with the instructions on how to apply it. Automatic updates will start being pushed to Nook Colors starting this week and over the next few weeks, as long as it is connected to a WiFi network of course.
Right now I'm testing out the new update and working on putting together a video and written review for it.
Until then, here's the list of improvements via the updates page over at Barnes and Noble:
Access to shop a broad collection of popular NOOK Apps™ to enjoy great games, stay up to date on news and weather, and more
Full-featured free email to check and send web-based email (i.e., Yahoo, Gmail, Hotmail, AOL) all from one in-box
NOOK Color's update to Android OS 2.2/Froyo offers system improvements, browser performance and a more complete Web experience giving customers access to enjoy even more video, interactive and animated content. NOOK Color now includes support for Adobe® Flash® Player
NOOK Kids™ exciting new Read and Play titles that bring animation, activities and stories together
NOOK Books Enhanced offer in-page video and audio in a growing number of titles
Enhancements to magazine navigation making it easier to enjoy even more of the growing selection of magazines in NOOK Newsstand
NOOK Friends™ (beta) to see your friends' reading activities, swap books with LendMe™, share recommendations and discover new titles