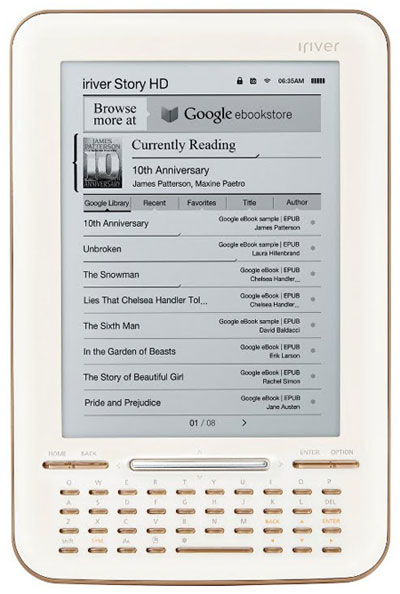 A new ebook reader is coming on July 17th, the iriver Story HD. It will be available exclusively through Target stores and on Target.com for a suggested retail price of $139.
The iriver Story HD is the first ebook reader to incorporate the Google eBookstore. With it users can browse, purchase, and download ebooks over WiFi. The Google eBookstore launched this past December and is designed to be open to all publishers, retailers, and manufacturers. It provides access to a wide library of new ebooks and over 3 million free ebooks in EPUB and PDF formats.
The iriver Story HD has a 6″ display, 800MHz Cortex CPU, full QWERTY keyboard, 2GB internal memory, an SD card slot for cards up to 32GB, and it has a battery life of 6 weeks or about 14000 page-turns.
The biggest news about the Story HD is its new high-definition XGA screen. Other 6″ ebook readers have a pixel resolution of 800 x 600. The Story HD has a resolution of 1024 x 768, giving it 63% more pixels for improved clarity and crispness. The grayscale remains the same at 16.
Supported ebook formats include Adobe DRM, PDF, EPUB, TXT, FB2, and DJVU. It can also display office formats such as PPT, PPTx, XLS, XLSx, DOC, DOCx, and HWP. The comic viewer can view JPG, BMP, PNG, and GIF image files. And since it supports Adobe DRM, ebooks purchase from a wide range of other sources will work as well, not just Google's ebooks.
The Story HD weighs in at 7.3 ounces (207 grams) and measures 7.5″ x 5″ x 0.37″ (190 x 127 x 9.3mm).
I'll be picking up an iriver Story HD to review, so check back soon for more details.