PDF Review: Nook Touch, Rooted and Stock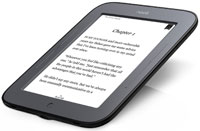 One of the more common questions I get asked here lately is how the Nook Touch handles PDF files. So here it is, the Nook Touch PDF Review, complete with a ten minute video tour.
The review covers both the Nook Touch's stock PDF functions as well as some different Android apps on a rooted Nook Touch. If you've used any of the other Android PDF apps not mentioned in the review, please let us know how well they work in the comments section below.