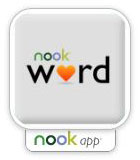 Unless you own a Nook Color, it can be difficult to find what kind of selection of apps are available, and especially free apps since the Barnes and Noble website refuses to sort Nook Color apps by price.
So I decided to put together this list of free apps for the Nook Color via Barnes and Noble's Nook appstore for those that are considering getting a Nook Color and want to know what type of free apps are available for it.
As of the date of this post, this is the complete list of free apps for the Nook Color. This applies to a non-hacked Nook Color, of course. A hacked Nook can install hundreds if not thousands of free apps from the Android Market.
Like I said, the B&N store isn't currently sorting apps properly, but there is a workaround for finding the list of free apps on B&N.com. It's not something that is obvious to figure out, so here is the link to the list of free Nook Color apps for future reference.
Free Nook Color Apps
Fliq Calendar – Stay on schedule with Fliq Calendar! It works as either a standalone application or you can add sync* capabilities to Microsoft Outlook or Apple iCal.
Fliq Calendar includes numerous features like:
• Editable calendar colors
• Multi-Day events show as a banner in week and month view
• Customize first day of week (for week and month view)
• Select default calendar for newly created events
• Week numbers displayed in week and month views
• Visual padlock indicator for subscribed read/only calendars
Fliq Notes – Stay on schedule with Fliq Calendar! It works as either a standalone application or you can add sync* capabilities to Microsoft Outlook or Apple iCal.
Fliq Calendar includes numerous features like:
• Editable calendar colors
• Multi-Day events show as a banner in week and month view
• Customize first day of week (for week and month view)
• Select default calendar for newly created events
• Week numbers displayed in week and month views
• Visual padlock indicator for subscribed read/only calendars
Pulse News – Meet Pulse. A beautiful application that makes browsing news from websites and social networks fun and engaging. Pulse takes your favorite websites (including Facebook) and transforms them into a colorful and interactive mosaic. Tap on an article, and you will see a clean and elegant view of the story. Sharing a story via Facebook, Twitter or email is as easy as two taps. Pulse has been featured in The New York Times, Wall Street Journal, Fortune, BusinessWeek, Techcrunch and more. Experience Pulse today – you will never look at news the same way again…
Nook Word of the Day – Expand your vocabulary and discover great new books from Barnes and Noble with the nook word of the day app. Powered by Wordnik, the world's largest dictionary, the nook word of the day app shows interesting words in context, as they are really used by the best (and best-selling) authors. Also includes audio pronunciations!
Fliq Tasks – The ultimate free tasks app. Create, edit, sort, colorize, categorize & organize tasks.
Create, edit, sort, colorize, categorize and organize your tasks. Choose global font and text size. Select a color for each category. Sort by title, date or category name. Ability to set a password to access tasks. Sync* tasks with Windows (Outlook) or Mac OS X (iCal).
Fandango Movies – Fandango, the nation's leading movie ticketing service and one of the Web's top moviegoer sites is available as a free app for your NOOK Color™ by Barnes & Noble! Whether browsing from your couch or the local Barnes & Noble store, everything you need to know about "what's in theaters" is at your fingertips. Fandango's app makes the movie going experience better than ever!
Springpad – Springpad is a free application that makes it quick and easy to take notes and save anything you want to remember in one place – from tasks and lists to products, places, movies, recipes and more. We automatically organize and enhance what you save with useful links and relevant offers to save you time and money. Everything you save is synchronized and accessible on your android device and on the web…
Tikatok StorySpark – Create your own books and read books by kids around the world for FREE! Tikatok, a Barnes & Noble company, lets anyone become a published author. With the Tikatok StorySpark app you can write and illustrate your own book right on your NOOK Color then go to Tikatok.com to order real hardcover and paperback copies. Start with our gallery of clip art images and page backgrounds, type the words to your story, add your own photos or illustrations, and save books to your free Tikatok account. For even more inspiration, read books created by real kids that have been selected as "Tikatok Picks" and find out which book has been selected as the Tikatok "Book of the Week." Could the book you create be next? Share your story and find out!
Float HD – Float is a game that makes you feel happy. Try to keep the balloons in the air and off the spikes. Tap, bobble, and bump your way to fun. With multiple games modes, achievements, and leader boards there is something for everyone…
Goodreads – Tap into the world's largest social network for readers with the Goodreads Nook app! Read thousands of book reviews by your friends and other Goodreads members, keep a virtual bookshelf of what you've read, and build your to-read list as you discover great books on the app and in the NOOKbook Store…
Seesmic (Twitter, Facebook, Chatter) – Seesmic is the best way to manage your social networks in one powerful and yet simple app. You can see and update your Facebook, Twitter, Google Buzz and Salesforce Chatter accounts all at the same time, search and get notifications for new messages! You can also share photos and videos…
UrbanDaddy – The award-winning UrbanDaddy mobile application has your answer to the eternal question: "where should we go next?"When you're out on the town and looking for the perfect spot to go for food, drink or a little late night debauchery—you can find any old place or you can find the right place. Select what you want to do and who you're with and we'll give you a hand-picked list of the nearest spots that fit the bill, complete with venue description, photos and GPS-powered directions to get you there fast…
TapToTalk – TapToTalk turns your NOOKcolor into an augmentative and alternative communication (AAC) device. TapToTalk makes communication fun, like another ?game? on this cool device. Just tap a picture and TapToTalk speaks. Each picture can lead to another screen of pictures…
BibleReader – BibleReader lets you explore the Bible on your NOOK Color by Barnes & Noble and carry your Bible study library with you wherever you go, including offline reading! This application includes the King James Version (with Strong's numbers), Matthew Henry's Concise Commentary and a Daily Reading Plan…
KJV Bible – What happens when you combine a group of engineers in Silicon Valley with the King James Version Bible? You get the KJV Bible by Tecarta – a very cool and fast Android app designed for Bible Study, quick navigation and easy note taking. No other Bible app matches the design, functionality and affordability (Free) of the KJV Bible by Tecarta…
Napster – Listen instantly to your choice of over 12 million full-length songs as often as you like, and in the order you want, including new releases and old favorites—all for just $10 a month. You can save songs, playlists, and albums to your NOOK to enjoy when not connected and listen while you run other apps. Also enjoy Napster on any connected computer, compatible TV, Blu-ray™ player or other compatible home audio product. New customer? TRY IT FOR FREE, and save 20% when you choose the Napster plus mobile access annual plan…
Evernote – Evernote is an easy-to-use, free app that helps you remember everything across all of the devices you use. Stay organized, save your ideas and improve productivity. Evernote lets you take notes, capture screenshots, create to-do lists–and makes these notes completely searchable, whether you are at home, at work, or on the go…
TouchDown – TouchDown provides you with the most features and options. Emails, Calendar, Contacts, Tasks, Out of Office, Speech, Rules, we got it all…
Conqu – Conqu is an easy to use yet powerful task management tool designed to help you conquer your inbox and get things done. With Conqu, you can organize the tasks by criteria that makes sense to you and then find the right task to do at the right time and place. Whether you are a GTD pro or you just need a simple to-do list, Conqu will provide you with all the tools you need…
Authors – The perfect app to keep up with your favorite authors with real-time updates from Twitter and all of their online life right at your fingertips. Personalize the app to have just your favorites and use it to discover new ones too. Author video interviews are also just a click away. All of the authors' books are right in the app as well. Download now and get closer to your favorite authors.
The Missing Sync for Android – The Missing Sync for Android: Sync your Nook Color and computer. Keep calendars, tasks and notes in sync between your Nook Color and computer over a Wi-Fi network. Transfer playlists of music, photos, files and videos via Wi-Fi or using USB cable. This is the required companion application to the computer desktop version of The Missing Sync (available for purchase at www.markspace.com/android/nook) and has no functionality by itself…
Uprising: St. Louis – This is a MMORPG in the style of Storm8 or Moblyng games. Your goal is to work with (and against) the political parties in St. Louis to become mayor!
my6sense – Designed to bring the best, most relevant and most interesting updates from your social networks, news and blogs, based on your own personal interests, My6sense brings the best from your Twitter, Facebook, Google Reader, Google Buzz, RSS, blogs, news and social streams and learns from you as you use the app. my6sense not only becomes your intelligent scout, diving deep into your content to find the best for you, but smartly has built hooks into each social network to have you commenting, liking, tweeting, messaging and replying to your friends from within the app…
Boingo Wi-Finder – Enjoy unlimited Wi-Fi access on your NOOKcolor at 260,000+ hotspots worldwide! Simply download the Boingo Wi-Fi app for Nook, and sign up for Boingo Mobile for just $7.95/month at www.boingo.com/boingomobile.
With the Boingo Mobile Wi-Fi app, you can easily connect to Wi-Fi at airports, hotels, cafes, convention centers, and more.
If you have an existing Boingo Mobile account, just tap "I Have an Account" from the start screen, enter your username and password, and you're all set!
American Airlines – Introducing the travel app that understands who you are and where you're going. With the American Airlines app, you can view personal flight details such as your gate, seat and flight status info at a glance. You can access your Mobile Boarding Pass – the app saves it for you so it's always easy to find. You can also monitor your place on the standby and upgrade list, track your elite status progress, play Sudoku, set parking reminders, and much more. Simply swipe and tap your way through your personalized American Airlines travel information with the app that's perfect for flying through airports.
Bibliophile – This application will teach people how books have shaped the world, including how songs have been inspired by and influenced by literature and history. It can also display quotes and song lyrics relevant to any links found. You can even search the database to find results relevant just to you!
V1 Golf for Android – Record, analyze & improve your golf swing with the world's #1 video analysis app
V1 GOLF SWING ANALYSIS APPLICATION for the Android!