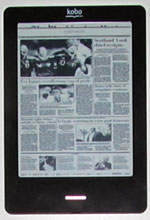 When doing the review for the Kobo Touch last month, I had attempted to test various periodicals but they would not download to the device.
Apparently there was an issue with the servers that deliver periodicals, but that issue has since been resolved and now newspaper and magazine subscriptions automatically download to the Kobo Touch like they are supposed to.
Each subscription comes with a free trial, so my free trials suddenly appeared the other morning while downloading the latest firmware update for the Kobo Touch. I also used Calibre to fetch a news feed for free from The Washington Post to compare with the subscription version from Kobo. Here's a look at the results…
Newspapers on the Kobo Touch
Newspapers on the Kobo Touch are sorted into sections. You can jump to the different sections by tapping in the center of the screen to bring up the option bar, where you can select the sections menu and list of articles. Each section shows the article heading with a summery. Tapping on the headline directs to the full article.
There aren't as many layout choices for periodicals as with ebooks. You can adjust the font type and size, but not line-spacing, margins, or justification. Holding down on a word brings up options to look it up in the dictionary and sharing on Facebook.
Free news feeds from Calibre on the other hand have all the layout settings available that ebooks have since they are in ePub format. The only feature they lack, like other non-Kobo ePubs, is the ability to share on Facebook. It has the same articles and mostly the same layout as the paid version from Kobo.
The problem with the Calibre version, however, is that it's difficult to get the Kobo Touch to activate the hyperlinks. This isn't something unique with newspapers, the Kobo Touch has problems recognizing hyperlinks in regular ebooks too. You have to press them just right; a lot of times it will either turn the page or bring up the menu options instead. Fortunately Calibre news feeds have full table of contents so you can use that to navigate instead (sorry, forgot to show that in the video).
Overall, subscriptions on the Kobo Touch work well and are pretty much the same as they are on the Kindle or Nook. The newspapers from Kobo load fast and navigating through them is easy with the touchscreen, much more intuitive than on the Kobo Wifi having to use the nav button for everything.