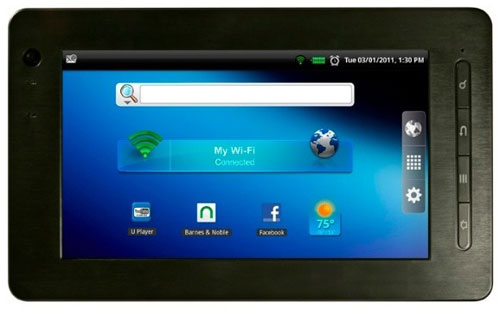 Today Pandigital formally announced the release of a new line of Android tablets: the Pandigital Planet, Pandigital Nova, Pandigital Star, and a fourth mystery "flagship" device that will be released in September, likely the 8″ SuperNova that passed through the FCC recently.
The Pandigital Nova and Pandigital Planet are both available now. In fact I picked up a Nova at Best Buy earlier in the week and have been testing it out. Given the $169 price, it's not bad (I'll post the review for it next week).
Pandigital's earlier line on Android ereader tablet hybrids were exceptionally popular given their widespread retail presence and budget pricing. And once again, Pandigital is taking the low-priced approach with these new tablets as well, setting the MSRP at $159 for the Star and $189 for the other two, although they are listed for $179 and $169 currently, which gets even lower with sales and discounts. Kohl's frequently sells these and offer coupons for up to 30% off.
All three devices offer very similar features and all have 7″ touchscreens. The Star uses a narrower screen with a 800 x 480 resolution and the other two have 800 x 600 resolution screens. They use a new type of resistive touchscreen called ActiveTouch that supports multi-touch.
They tie in with the Barnes and Noble ebookstore for ebooks and periodicals, with the exception of one of the Planet models that comes with the Kindle platform pre-installed (funny, there's no mention of that in the press release).
The new devices are all a step up from last year's models. These ones come with front and rear facing cameras, micro HDMI port, a faster Cortex A9 processor, have multi-touch screens, hardware buttons with backlights, and run newer versions of Android, Gingerbread (2.3) for the Nova, and Froyo (2.2) for the other two models.
On the downside, none come with official Android Market access, but there's already a fix for that, at least for the Planet. That's a topic for a different post.
Here's a copy of the press release for more details:
PANDIGITAL LAUNCHES LINE OF AFFORDABLE, FULL-FEATURED ANDROID™ MEDIA TABLETS

Advanced features and high-performance Cortex A9 processor at a great price make these tablets the ideal lifestyle companions

DUBLIN, Calif., Aug. 4, 2011 – Pandigital today announced a line of Android™ media tablets that deliver advanced features and functionality, giving consumers a choice in devices that best fit their digital lifestyle. The first three tablets in the line – the Pandigital Planet, Pandigital Nova and Pandigital Star – will be available this month to consumers starting at $159 MSRP. The fourth product in the line, the flagship product, will be announced and available to consumers in Sept.

These powerful new tablets feature Cortex A9 processors with embedded hardware 3D graphics engines, providing fast response times and enhanced performance for consumers, whether watching the latest action movie, playing the hottest video game or watching a recent vacation video.

Combining performance with design, the Pandigital Planet, Nova and Star allow users to multitask in style. All three Wi-Fi-enabled devices feature 7-inch full-color touchscreen displays enclosed in a light weight, sleek, black housings with a brushed metal-look front bezel. Users can easily read the latest best seller, surf the web, check email, post on the most popular social media sites, catch up on the news or entertainment, check out family vacation photos, and more while at work or play. Additionally, users have the flexibility to personalize their tablet by downloading the Android™ applications that are most interesting to them from the preloaded app store, unleashing the devices' full potential.

"We're excited to share this family of media tablets that feature innovative technology at an incredible value to our customers," said Dean Finnegan, founder and CEO, Pandigital. "We have included many of the features and functionality that consumers have come to expect from much higher priced devices. To further enhance the customer experience, each model also includes several advanced features, such as the ability to browse the Internet, catch up on email, watch movies, and share photos on the family TV from the tablet."

Instant Access to Digital Applications and Content

As digital content becomes more prevalent, consumers want to customize their personal devices to best fit their lifestyle, making it critical to have instant access to the latest applications. The Pandigital Planet, Nova, and Star all offer seamless connectivity to more of the applications consumers want, including:

Barnes & Noble's eStore – Quick and convenient access to more than two million eBooks, newspapers and magazines, a wide variety of free eBooks, and more than half a million free classics. It's easy to browse, sample, buy, and download published content in seconds. Also, customers can lend many eBooks with friends and family for 14 days.

GetJar – Access thousands of applications from the world's largest free app store from categories including Education, Social & Messaging, Entertainment, Finance, Food, Games, Health, Search, Lifestyle, Maps, Music, News & Weather, Photos, Productivity, Religion, Shopping, Sports and Travel.

Built-in Wi-Fi and Browser – Access the Internet and surf the web anywhere a Wi-Fi connection is available.

Email – Stay in touch with friends, family and colleagues using existing email addresses –including support for MS Exchange.

InTouch and Facebook – Quick access to Facebook, Twitter and RSS news feed data.

U-Player – Direct access to popular YouTube videos.

Gallery and Video Player – View and manage photo files, and play and manage MPEG4 video files.

Music – Play and manage music audio files (MP3, WAV and AAC).

Camera – Use front and back cameras (front-facing camera only on Pandigital Star) to take pictures and video.

HDMISwitch – Anything you can experience on your tablet can be viewed on your TV (optional HDMI cable accessory and TV with HDMI input required).

ES File Explorer – View and manage files and apps, and back up files to a microSD card.

OfficeSuite Viewer – Open and view many file formats (DOC, DOCX, TXT, XLS, XLSX, CSV, PPT, PPTX, PPS, PPSX and PDF).

To further enhance the flexibility of the product, all three tablets feature custom-developed applications that provide users with a more intuitive experience. The Wi-Fi Connection Wizard aids in connecting with and monitoring available Wi-Fi networks. Another app provides automated notices of firmware updates and the ability to download them directly to the tablet via the Wi-Fi connection. Other useful apps from Pandigital include InTouch for instant access to social networking sites, a customized calendar, a notes app, a weather app, and an alarm clock.

Powerful Features and Functionality Enhance Usability

The Pandigital Planet, Nova, and Star provide a superior customer experience through advanced features and functionality, combined with a user-friendly interface. All three devices feature the powerful Android™operating system – the Planet and Star are Android™ 2.2 and the Nova is Android™ 2.3. All the tablets are upgradeable to new Android™ operating system versions and will be scheduled for future firmware releases as they become available.

The new tablets offer an excellent viewing experience with 7-inch full-color LCD displays. The Planet and Nova offer a 600×800 resolution, and the Star's thinner width utilizes an 800×480 widescreen resolution and easily fits in one hand. In addition to the back-lit Android™ buttons, the three devices each provide users with a sensitive ActiveTouchTM touchscreen interface with multi-touch support. Additionally, the orientation sensor automatically adjusts between portrait and landscape mode in most applications when the devices are tilted, and the 2-Axis Accelerometer is great for controlling games that need simultaneous steering and acceleration.

The integrated memory (2GB for the Planet and Star, 4GB for the Nova) lets you store hundreds of books, apps, movies, music and more. In addition, the built-in MicroSD card reader accepts up to 32GB memory cards for virtually unlimited storage. The built-in mini-USB On The Go (OTG) port provides a way to connect directly to a computer for easy file transfers (Mac and PC compatible), supports a number of peripherals, such as wired mice and keyboards, or wireless mice and keyboard combinations, and can also be used to re-charge the internal battery.

Each of the tablets has a compact and sleek design measuring approximately 5-inches wide, 7 ½-inches high and 1/2-inch deep, and each weigh less than 14 ounces, making them extremely portable. All three devices come with a rechargeable Li-ion battery and get up to 6 hours of use (performance varies based on use –averaging longer for reading with no Wi-Fi and shorter for continuous streaming video).

Product Availability and Pricing

The three Pandigital Android™ media tablets will be available at leading retailers across the U.S. The Pandigital Planet (R70A200) is currently available for $189 MSRP, the Pandigital Nova (R70F400/ R70F452) will be available this week for $189 MSRP, and the Pandigital Star (R70B200) will be available mid-August for $159 MSRP.