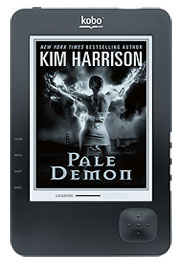 While checking into an announcement that Kobo has officially launched their new touchscreen ebook reader at Best Buy, I happened to notice what is one of the lowest priced E Ink ebook reader to date.
Best Buy is selling the Kobo Wifi (refurbished) for just $64.99. The only E Ink ereader I've ever seen priced lower was the original Kobo for $59 for a short time at Borders earlier this summer.
The Kobo WiFi is a decent ebook reader as long as you don't want a touchscreen or a lot of advanced features. It's a good option for someone new to ereading and for those that want to take advantage of getting free ebooks from libraries. Here's my Kobo WiFi review from back in November for more details about it.
Now for the Kobo Touch news . . .
Borders was Kobo's primary US partner (Kobo is based in Canada) for distributing their new Kobo Touch Edition ebook reader, but now that Borders has gone under Kobo is making their new $129 ereader available in other retail locations, and the first stop is Best Buy.
The Kobo Touch has been available on Best Buy's website for a little while now, but they haven't had any in stores. So today Kobo announced that some Best Buy stores will start carrying them, and that Kobo specialists will be on hand to demo the Kobo Touch ereader to customers. Kobo also stated that the Touch Edition will soon be made available through other retail channels in the US later this year, most likely Wal-Mart and Sears, among others.
If you want to test a Kobo Touch in person, check Best Buy's in-store availability for the particular Kobo Touch model you want to see if they have any in stock at a store nearby. I don't think very many stores have them in just yet.