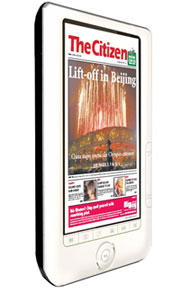 I found a new color ereader from Fuji Labs, the MM3280, listed on OverStock.com yesterday, making it the third Fuji Labs ereader I've found to date. The other two Fuji Lab devices where spotted way back in December; both are still showing up but are priced lower now.
The new Fuji Labs MM3280 is selling for $169. It has a 7″ LCD touchscreen with a pixel resolution of 800 x 480, which means it has a 16:9 ratio. It comes with 2GB internal memory, and a memory card slot for cards up to 16GB. It doesn't say what platform it runs on; I doubt it is Android.
The main problem with Fuji Labs two earlier devices is that they don't support any ebook DRM, and unfortunately the same appears to be true for the MM3280 model. It supports EPUB, PDF, TXT, CHM, UMD, PDB, HTM, and HTML formats, but the listing says non-DRM after PDF so that would mean Adobe DRM isn't supported.
The device is more than a color ereader, however. It also plays videos, music, and games, although it doesn't specify what type of games. It lists MP3, WMA, WAV, AAC, and FLAC as supported audio formats and RM, RMVB, AVI, MOV, WMV, MP4, 3GP, FLV, ASF, MPG, MKV, VOB, and DAT as supported video formats. It also supports JPG, BMP, and GIF images.
The Fuji Labs MM3280 uses a built-in 2800Ah polymer battery, but there's no mention of how long a charge will last. As for dimensions, it measures 8.67″ x 5.34″ x 0.46″, and weighs in at about 12.5 ounces.
That's all the details currently available, and the one and only picture that shows its side isn't much help. If you've had your hands on this new Fuji Labs ereader, let us know what you think.