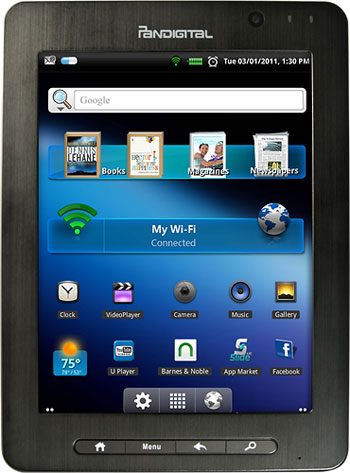 Best Buy recently put up a page for the Pandigital Super Nova. It isn't for sale just yet, but more details about it have come to light.
As you would expect from the name, the Super Nova is pretty much a beefed-up version of the Pandigital Nova, which I just recently reviewed and rooted. The main thing that differentiates the Super Nova is the larger 8″ screen. Plus the screen is capacitive instead of resistive, but it still has the same 800 x 600 resolution.
The only other differences, it appears, is that the Super Nova runs a faster processor. Best Buy lists it at 1.0 GHz, whereas the Nova has an 800 MHz processor. Plus the Super Nova comes with Bluetooth. Other than that, the specs appear to be pretty much identical to the Nova, including the Gingerbread operating system.
Super Nova Specs
8″ capacitive touchscreen
800 x 600 resolution
Android 2.3 Gingerbread
4GB internal memory
MicroSD card slot
WiFi 802.11 b/g/n and Bluetooth 2.1
Mini USB 2.0, can host with adapter (assuming it's the same as the Nova)
Front and rear facing cameras
Built-in speaker, microphone
Micro-HDMI port
Barnes and Noble ebookstore
Weighs 1 pound
Measures 8.4″ x 6.1″ x 0.4″
MSRP: $219
Given the screen size, the Pandigital Super Nova reminds me of the NextBook Next3. The Super Nova has more upgrades, though. It will be interesting to see how the capacitive screen compares with Pandigital's other three new tablets that all use ActiveTouch screens, resistive screens with multi-touch.