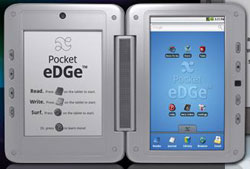 The no-longer-made Entourage Edge is selling for an eye-poppingly low price of $79.99 today only on Woot. That's such a good price that I'm even tempted to buy one, and another gadget is the last thing I need, so I'm going to have to avoid looking at this post for the rest of the day.
The Entourage Pocket Edge is a very unique device; it's a blend between an ereader and a tablet. It has two screens, one E Ink and one LCD. The E Ink side uses a 6″ Vizplex screen. It is a touchscreen too, a Wacom touchscreen, and comes with a stylus. The LCD side is a 7" WXGA 800 x 480 touchscreen, and uses a resistive touchscreen.
The device supports ebooks in PDF and EPUB formats, as well as Microsoft office formats. It can install Android apps for access to other ereaders like Barnes and Noble and Kindle too.
The Pocket Edge runs on Android 1.6, but I think it can be upgraded to 2.2 with a little technical work. It comes with 3GB internal storage and has a microSD card slot. The CPU is a Marvell ARMADA PXA168 that runs at 1.2 GHz. It has WiFi, Bluetooth, a built-in speaker, microphone, headphones, and a 2MP front-facing camera.
The Entourage Edge is no longer being supported by Entourage, the app store is no longer available (you can use other apps stores), and the forums have closed, so that's probably part of the reason for the ultra-low price. When the Pocket Edge first launched it sold for $399. Yeah, that's crazy.